The 1988 Canadian dollar coin or the 1988 loonie is one of those coins that has a significant historic value, yet it's still in circulation. So, what does this mean for the value of the 1988 Canadian dollar coin? Furthermore, what are the different types of this coin, what is its history, and are there any interesting details or errors you need to watch out for? Let's find out below.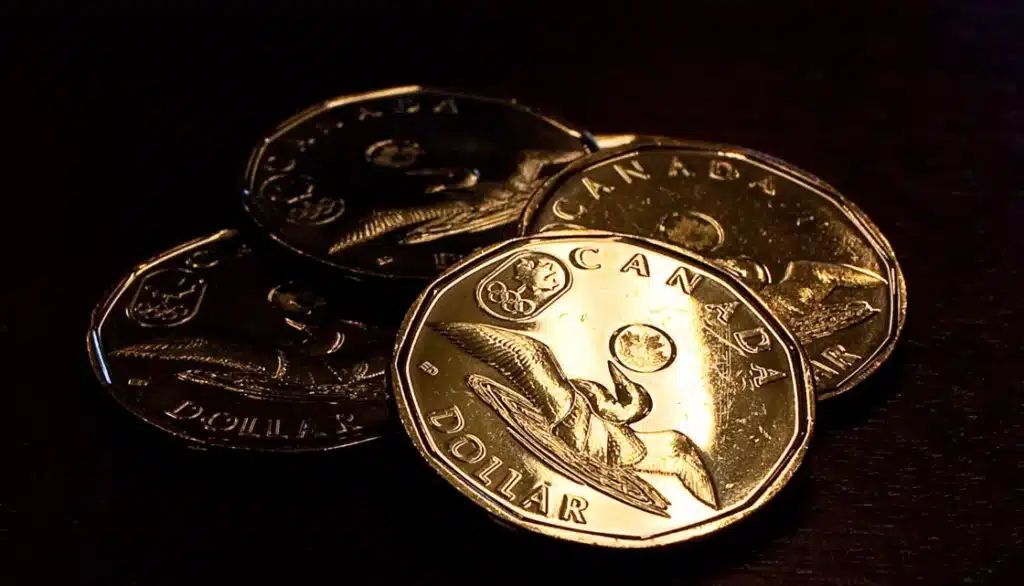 1988 Canadian Dollar Coin Specifications
Composition: 91.5% nickel, 8.5% bronze
Weight: 7 grams
Diameter: 26.50 mm
Thickness 1.75 mm
Obverse side engraver and designer: Arnold Machin
Reverse side engraver and designer: Robert R. Carmichael and Terrence Smith
Shape: Hendecagon – an 11-sided circle-like shape that's also often called "an 11-gon"
Edge: Smooth
Magnetism: Magnetic
Die axis: Medallic orientation
There are quite a few interesting things about these specifications. For starters, the diameter and thickness parameters changed in 1988 – the diameter was shortened from 26.72 mm in the previous year to 26.50 mm and the thickness was reduced from 1.95 mm to 1.75.
The 11-sided hendecagon shape also catches some people off-guard if they are used to the perfectly round coins of the US and most other countries. On the other hand, the medallic orientation of these coins is standard not just for Canada but for the UK and most of the rest of the world – it's US coins that are different from most others with the "coin orientation" of their coins.
For those wondering, the difference between medallic and coin orientation is that, in medallic coins, the obverse and reverse sides both face upwards in the same direction.
In other words – if you turn the coin sideways in a horizontal manner, the other side will still be facing the same way. Coins with a coin orientation, however, are meant to be turned vertically because the upper sides of the obverse and reverse don't match. You can find many examples of both coin types on the Coin Value Checker.
1988 Canadian Dollar Coin History
1988 is the second year of the mass production of one-dollar coins in Canada and the last year before the discontinuation of the paper dollar bill. Dollar coins – or loonies – were introduced in 1987 as a replacement for the dollar bills which were phased out over the next couple of years.
So, while the 1988 loonie isn't the first Canadian dollar coin, it's still quite significant historically. Its size was also slightly changed compared to the 1987 original so it's still "first" in that sense. The design of the obverse features the right-facing profile of Queen Elizabeth II as Canadian currency always features the face of the reigning monarch. The reverse side features a common Canadian loon swimming in water, hence the nickname "loonie" for this coin.
This version of the one-dollar coin was minted from 1987 to 2011 as the design of the obverse was slightly changed in 2012.
1988 Canadian Dollar Coin Grading
Grading a 1988 Canadian dollar coin is done the same way as with all other coins. First, we must assess the exact type of the coin – whether it's a regular circulated coin, an uncirculated piece, or a special edition such as a proof coin. Then comes the quality grade – this is done by examining the visual characteristics of the coin and determining exactly how well it has been preserved.
For regularly circulated coins, the quality grade is expected to be quite low as they tend to accumulate a lot of wear and tear over the years. For an uncirculated coin, however, the quality should ideally be pretty close to mint state as such coins don't get handled often. The way this quality is graded is typically on a 1-to-70 scale such as the Sheldon coin grading scale.
The next thing to look at when trying to assess the value of a coin is to look for any specific manufacturing errors or other unique details that can make each individual piece more unique. For 1988 Canadian dollar coins, the error you can expect to occasionally encounter is the deficient plating error.
As its name implies, this error occurs when the chrome plating deposited to the surface of the minting blank doesn't get applied properly. The electrodeposition chemical process that applies the plating is the last step before the strike of the minting dies.
1988 Canadian Dollar Coin Variants
While the standard 1988 Canadian dollar coin can still be seen in circulation, there are some rarer variants of this piece that can only be found in the collections of numismatists. Here are the main variants of this loonie you should watch out for:
1. The circulated 1988 Canadian dollar coin – this is the 1988 loonie most people in Canada have seen in their wallets from time to time. There were 138,893,539 such coins minted in 1988 – less than the 205,405,000 coins minted in 1987 and the 184,773,902 coins minted in 1989 but still a very high number. Naturally, the value of these coins is equivalent to their face value of one dollar and not more.
2. Uncirculated 1988 Canadian dollar coins – technically the same as the normal 1988 loonies, these are coins that have just been kept from wide circulation. As such, they have much better visual quality, so much so that they can be considered a separate variant. Anything below an MS 60 grade will still be worth about one dollar as it's not really preserved well enough, however, grades of MS 66 and higher can be worth north of 100 dollars.
3. NBU (Brilliant uncirculated) – such coins didn't just avoid wide circulation, they were struck in a special package that wasn't meant for circulation from the get-go. Physically, however, these coins aren't different from the standard version as they are made in the exact same way.
4. SP (Specimen) or Proof coins – these 1988 loonies are indeed different from the standard 1988 dollar coins in that they are minted with different dies and with different plating technology. They have a frosted or mirror appearance and much clearer details. Essentially, they are higher-quality coins that were sold as collector's items and were never meant to go into wide circulation. There were 175,259 such coins minted in 1988 so they are much rarer than regular 1988 loonies.
Funnily enough, as often happens with proof coins, they are not rarer than uncirculated standard coins, however. This means that, while the average 1988 proof loonie will always have a higher value than the average 1988 circulated loonie, they are not quite as valuable as uncirculated standard dollar coins as those are even rarer.
5. The KM 161 Ironworks silver dollar coin – 106,872 of these coins were made in 1988. They feature the same design on the obverse but a different design on the reverse – instead of the common loon, the reverse on this dollar features two ironworkers, the symbol of the Les Forges Du Saint-Maurice Ironworks where these coins were made. Instead of the standard Aureate-Bronze Plated Nickel of other loonies, these coins were made with a 0.50 fineness silver. They also have a perfectly circular shape rather than the eleven sides of the standard loonie.
Despite the unique design and silver composition, because there were over a hundred thousand of these coins made in 1988, they are not more valuable to collectors than a rare uncirculated standard 1988 loonie and are usually valued between 15 and 20 dollars apiece.
In Conclusion
The 1988 Canadian dollar is a beautiful coin and Uncirculated pieces of that year can be nice collector's items. This isn't a coin that will make you rich, however, at least not any time soon. Instead, it's a good piece for new collectors who are just starting their collections and are looking for low-cost but interesting coins to add to them.
There are many other such coins you can research on the Coin Value Checker but the 1988 Canadian dollar coin is certainly one we'd recommend, especially for its historical significance.
988 Canadian Dollar Coin FAQ
How do you know if you have a valuable 1988 Canadian Dollar Coin?
Standard 1988 circulated Canadian dollar coins aren't worth anything past their face value of one dollar. The coins that are extra valuable are the ones that haven't been circulated, the ones made as proof coins, as well as the rare KM 161 Ironworks 1988 Canadian dollar coin that has the symbol of the Les Forges Du Saint-Maurice Ironworks on the reverse side instead of that of the Canadian loon. Each of these three types of 1988 Canadian dollars is extra valuable and worth a spot in your collection.
Why is the Canadian dollar coin called a "Loonie"?
One-dollar coins in Canada are called loonies because the reverse side of most of these coins features an image of the Canadian common loon – a famous northern water bird that's very common in Canada. Not all Canadian dollar coins have a loon on the reverse as some special edition coins can have different things minted on the back. Even they are still called loonies, however.
What is the rarest Canadian dollar?
The rarest Canadian dollar coin is a 1911 silver coin nicknamed "The Emperor". There were only two of these coins made in 1911 and that was 76 years before the Canadian Mint started mass-producing dollar coins for wide circulation. So, this makes the 1911 Canadian silver dollar coin one of the rarest coins in the world, not just in Canada.