Transcription jobs for beginners
Are you ready to embark on a rewarding journey as an online transcriptionist, working from the comfort of your own home? Look no further! In this comprehensive guide, I will share with you my first-hand experience and insights into the world of online transcription jobs for beginners.
Whether you're a stay-at-home parent, a student, or simply looking for a flexible work-from-home opportunity, these transcription jobs are perfect for you. With just a reliable internet connection, you can work from anywhere and start earning right away.
Let's explore the benefits of being an online transcriptionist and discover the best companies to work for. But before we dive in, let me share some valuable tips on how to excel in this field. Transcription work may seem simple, but it requires strategic thinking and attention to detail.
While some may perceive working as a transcriptionist as a menial job, the truth is that general transcription requires just as much hard work and dedication as any other profession. It takes a special set of skills to excel in this field.
As an experienced transcriptionist myself, I can attest to the importance of attentive listening and the ability to comprehend various topics quickly.
The process of getting an online transcription job is fairly short and uncomplicated, whether you're a beginner or already at the pro level.
Table of Contents
For most companies, the process entails;
Reading through Company guidelines about transcript formatting and general grammar rules.

Doing a brief Q&A style online test.

Doing an audio transcription test either online or offline.

Submitting the finished transcript.
That simple.
All you do after that is wait for feedback, and see if you got the job or not.
So, I guess the problem would be where to find these legit online transcription jobs for newbies and pros alike.
In the next section below, we've compiled a list of the best-paying transcription companies that offer work-from-home transcribing jobs that you can apply for.
Factors we have considered when choosing the best transcription companies to work for.
Let us explore some of the factors we have considered in picking the best transcription companies currently hiring beginners and pros alike.
Whether you're looking for a way to make some extra money or want to start a new career, there's a decent number of companies that are there are offering transcription jobs.
Anyone can earn some extra money doing online transcription as long as you're ready to put in some work and have decent typing skills.
Looking for online transcription jobs for beginners? These 21 best companies are offering home-based entry-level transcription jobs.
21 Reputable transcription companies to work for as a pro or a beginner
After extensive research and countless hours of exploration, I have curated a list of the best sites to help both beginners and pros find transcription jobs from home with no experience needed.
By applying to these companies today, you can kickstart your journey as a transcriptionist in just a few days.
It's important to note that while some companies may have a longer response time, most will require you to pass a test. These tests can vary in difficulty, depending on a variety of factors.
This list covers reputable transcription companies that are offering entry-level transcription jobs for newbies to best-paying transcription companies.
Let us dive right in

GMR Transcription would be a great place to start for an English or Spanish transcriptionist; no experience is required.
However, you must be a US-based applicant though and pass their exam. Having a foot pedal also falls under their shortlist of requirements.
Once you pass their exam, there's a probationary period where you have to complete 2 audio hours' worth of work before you start getting paid.
You're required to commit to completing at least 4 audio hours of transcripts a month to work at GMR Transcription.
The expected pay rate is about $0.70 to $1.25 per audio minute depending on audio quality, turnaround time, and the number of speakers.
Payments are made through PayPal or direct bank transfer the Friday after an invoice is generated for complete and approved work. These invoices are autogenerated bi-monthly.
---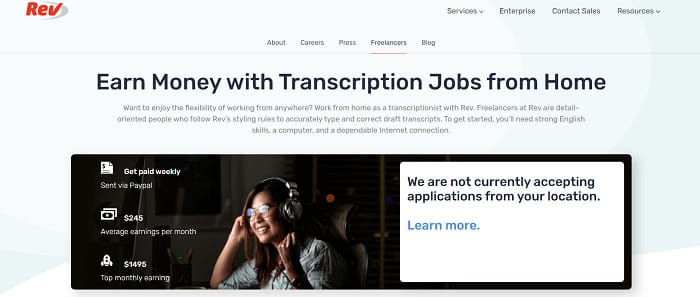 Rev, a San Fransisco-based Transcription company, boasts a huge workforce of some 60,000 freelancers and a huge clientele, some of who include the likes of Amazon.
No experience is needed here either from applicants, but you have to pass their 60-minute test, for which you'll get results within 48 hours. Rev offers a steady flow of work, and you as a transcriptionist get to pick the files you want to work on. Very flexible work.
The pay range at Rev starts from $0.30 to $1.10 per audio minute and they pay every Monday via PayPal. This is payment for work completed a week before.
If you're looking for transcribing jobs for beginners, REV is one of the reputable transcription companies that hire newbies.
---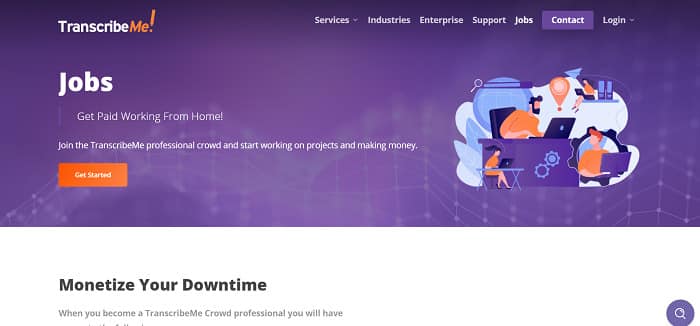 At TranscribeMe, the jobs come in small snippets of 2 to 4 minutes with jobs available 24/7. You can expect to earn $15 per audio hour and get your payments weekly via PayPal once you reach the $10 minimum payout.
On its website, the company states its top transcriptionists earn up to $2200.
This company is one of the options for beginner transcriptionists. As you grow in experience, there's a chance to join special teams and projects where you'll earn higher pay.
They hire worldwide and previous experience isn't needed. But you do have to pass their test. You'll get the results for this within 12 business days.
---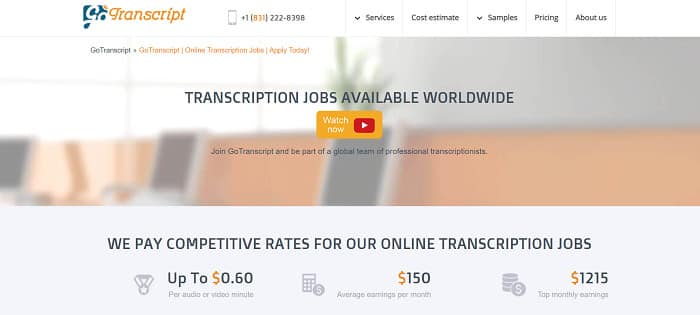 Here's a company that hires transcribers from all over the world since they do transcription in multiple languages including French, Mandarin, Spanish, Swahili, just to name a few.
GoTranscript doesn't require experience from their transcribers, though, again, there's a test to be done. You can gauge your readiness and prep for their transcription test by doing the practice test available on their platform.
You'll get an email once you pass their test and start getting access to jobs.
Payments are made weekly on Fridays via PayPal or Payoneer. Pay rates start from about $14 per audio hour and go upwards depending on TAT (turn around time), audio quality, and custom requests from clients.
The company doesn't have strict availability requirements and work is normally available in small splices of up to 10 minutes. Quite beginner-friendly if you ask me considering the 10-minute splices have a TAT of 6 hours.
Make sure you're fairly active on your account if you're an English transcriptionist. This is because if you're inactive for 3 months, you get kicked off the team and have to retake the GoTranscript test to requalify. The test is changed intermittently, so… transcribe often.
---
This transcription company hires globally with a few exceptions that are geo-blocked from accessing the platform depending on their geographical locations.
They have a fairly easy onboarding process. You'll start by downloading their instructions, transcription program, and audio file.
After, you'll fill an application form, transcribe the audio according to the downloaded instructions and upload it for review. A short 48 hours later, you'll know whether you got the job or not.
If Focus Forward approves your application, you'll then select the number of hours you'll be available to work on the platform as well as the number of days per week. You'll get transcription assignments according to your schedule availability.
Focus Forward has a payment schedule set on a bi-monthly basis with payments done via PayPal. Spanish transcribers can expect to earn $37.50 for every15 minute transcribed while English transcribers can expect $10 for the same minutes transcribed.
---
---

SpeechPad isn't always hiring but would be a great company to work for if you get the chance to. Expected Pay from this transcription company ranges from $0.25 to $2.50 per audio minute.
Their payment mode is through PayPal which is done every Tuesday and Friday.
This is a company for experienced transcriptionists. To qualify to work at SpeechPad, you'd need to have a typing speed of at least 40 words per minute. They carry out two tests based on transcription and grammar.
Working hours are flexible and jobs can be accessed through SpeechPad's job board or Amazon's Mechanical Turk. They have some exclusive rush jobs which are available by invitation only where transcribers can earn more.
A 96% rating is required for these jobs coupled with a minimum of 500 audio hours transcribed.
SpeechPad hires worldwide.
---

Triple-A Transcription is an Australian-based transcription company that does require experience. If you're up to the task, apply with Triple-A Transcription.
If they decide you're a good candidate for their team, they'll send a small test file for you to complete.
An accuracy of more than 90% is required before they bring you on board. That's after a short interview. Quite rigorous.
---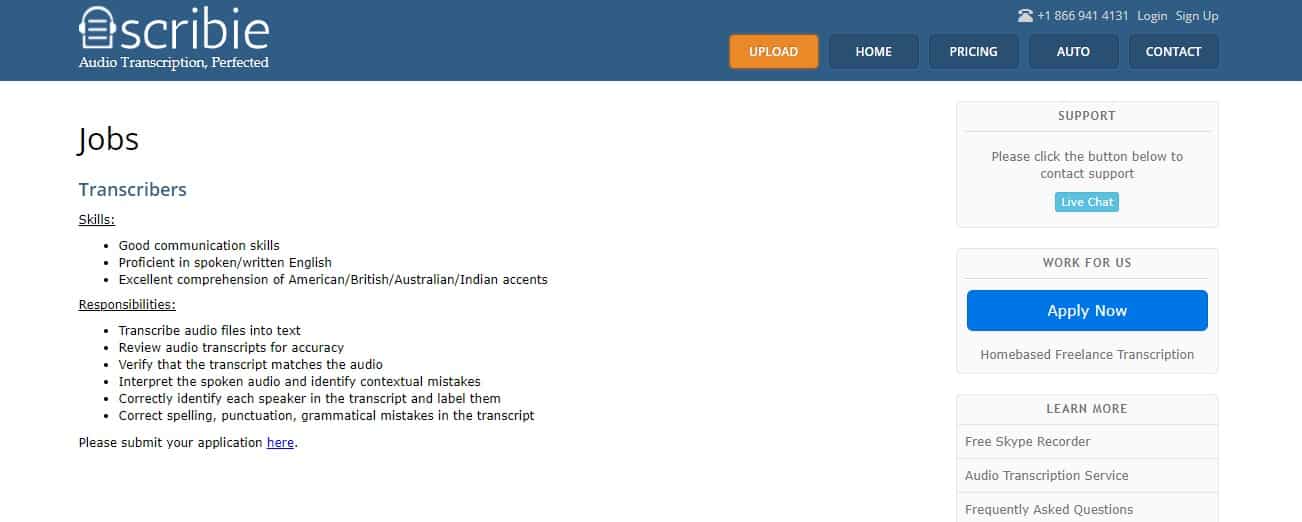 Scribie has been around since 2008 and has a 33,000-plus strong workforce across the globe. They hire both novice and experienced transcribers. They however don't accept applications from Californian residents in the US due to AB5 compliance issues.
The pay rate at Scribie is $5 to %25 per audio hour. They also give a $5 bonus for every 3 hours transcribed and payments are made via PayPal anytime with no minimum payout.
The company has some of the lowest rates in transcription but is really beginner-friendly with short files to transcribe. Files are often less than 10-minutes long with a 2 hour TAT for such files.
At Scribie, you can advance your transcription career by getting promoted to a reviewer, a self-reviewer, or a QC based on your performance.
There are no time commitments working at Scribie.
---

Transcription Outsourcing only takes US hires. They have transcription jobs segmented for medical, financial, legal, law enforcement, and general teams. Legal and law enforcement jobs have the highest pay rates.
General transcriptionists can expect to earn between $0.80 and $1.10 per minute with payments done on the 1st & 15th of every month via PayPal. The pay rates range depending on experience, turnaround time, shift, and difficulty of audio.
The company has paid as much as $5 per audio minute for transcripts with a really short TAT.
To become a part of Transcription Outsourcing's team, you're required to pass their tests with a minimum of 95%.
The tests include one for grammar, another for spelling, a single-person narrative audio file, and finally, a multi-person interview if it applies to the kind of transcription work you're interested in. Experience definitely required.
---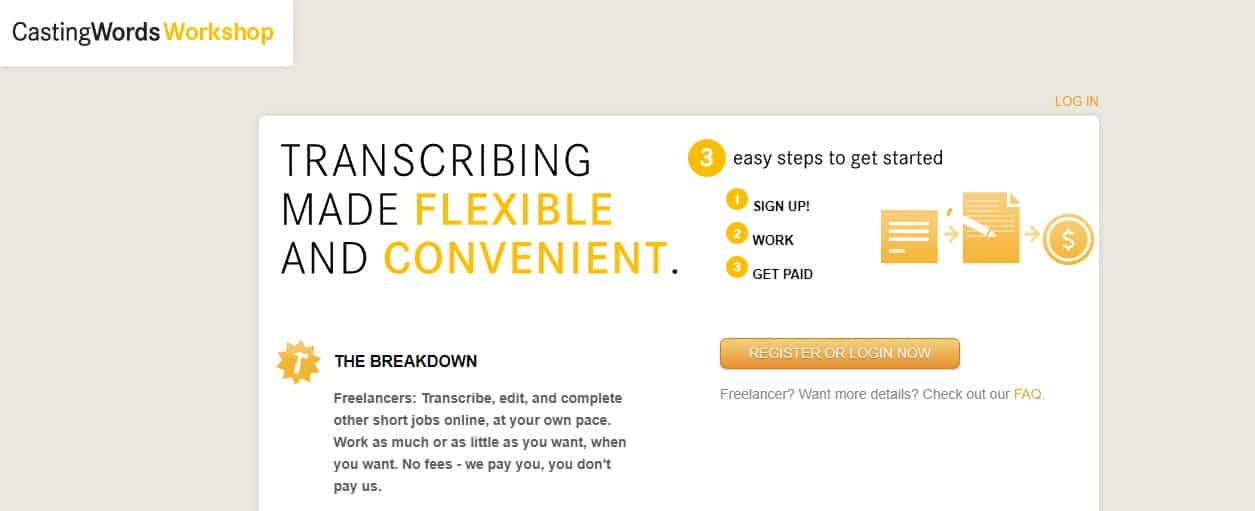 Casting Words pays out weekly on Fridays via PayPal. Transcriptionists earn from $0.085 and can triple their earnings with bonuses depending on transcript ratings.
You don't require experience to work with this company, they hire worldwide, and you can pick what files to work on and how often you want to work.
Casting Words is one of the easier transcription companies to apply to and get approved.
---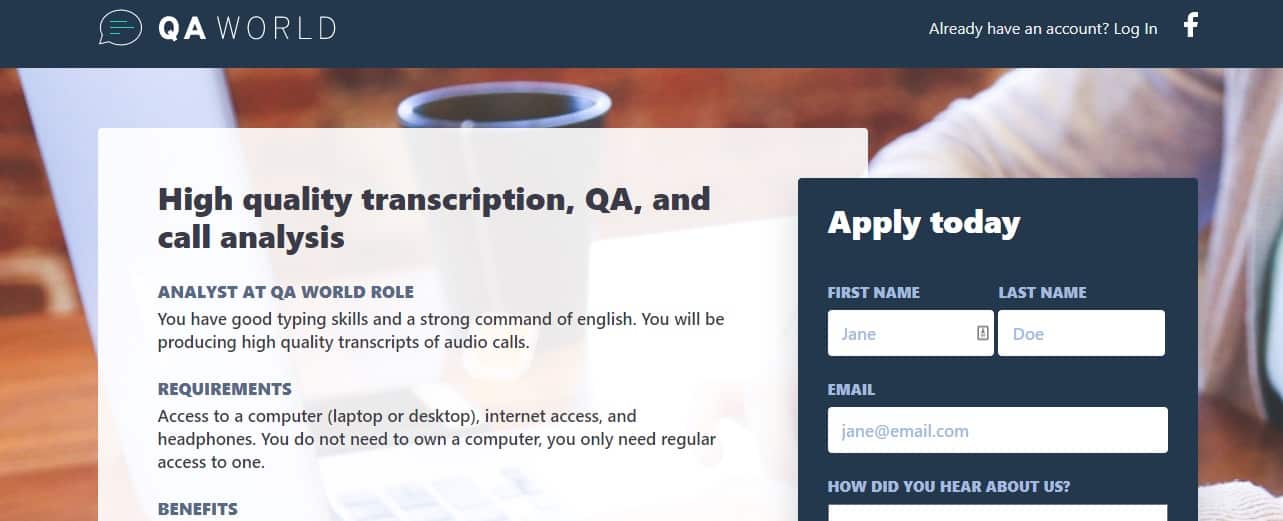 QA World is a fairly new company. They pay a minimum of $12 per audio hour with the average transcriber making around $130 per week.
The highest-paid ones make some $375 weekly. Payments are made via PayPal
Their application process is pretty straightforward and should take you less than 30 minutes.
---

Verbalink is a part of Ubiqus and only hires US-based English transcriptionists.
To apply at Verbalink, you need to send them your resume and cover letter after which you"ll take 2 tests consisting of 13-minute long audio files.
A foot pedal is required but no experience is needed to apply.
Transcription rates start from $0.85 per audio minute with payments made monthly via PayPal or bank transfer.
---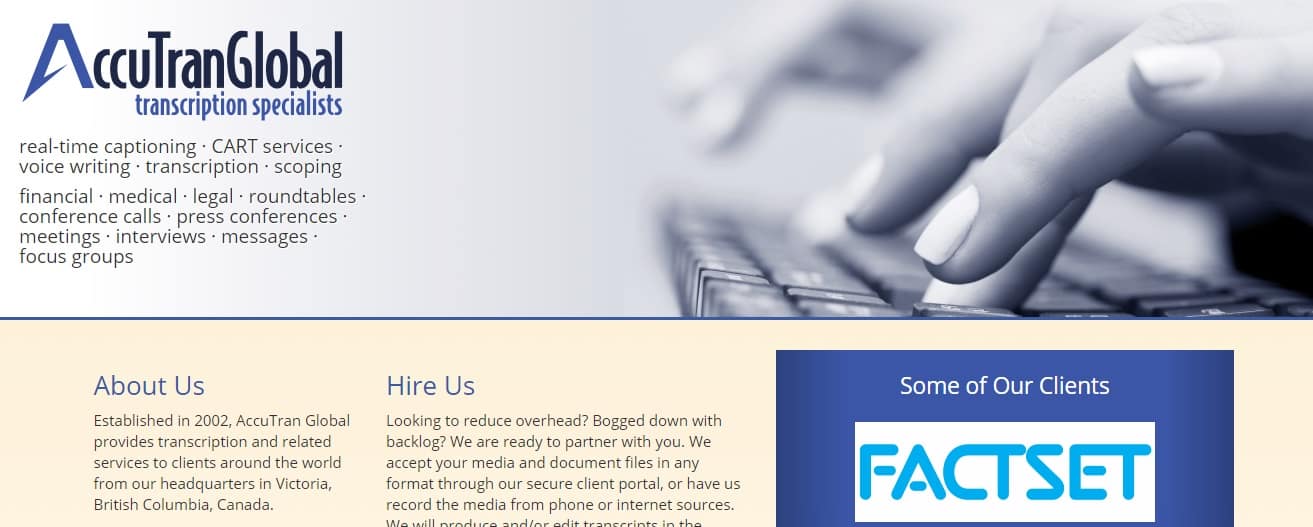 This Canadian-based transcription company offers several services including transcription and real-time captioning.
An entry-level transcriptionist can expect to earn $0.005 per word and get paid monthly through direct deposit.
Working on something like a conference call about an hour-long, payments start at $75.
According to their website, you must be able to Steno write into an ASCII text file or voice write into Word. They further state that expertise in financial terminology is a plus but not required.
They are keen on transcriptionists being able to meet deadlines and following guidelines precisely.
Accutran Global offers bonuses for difficult or foreign-designated calls and exceptional accuracy in transcription.
---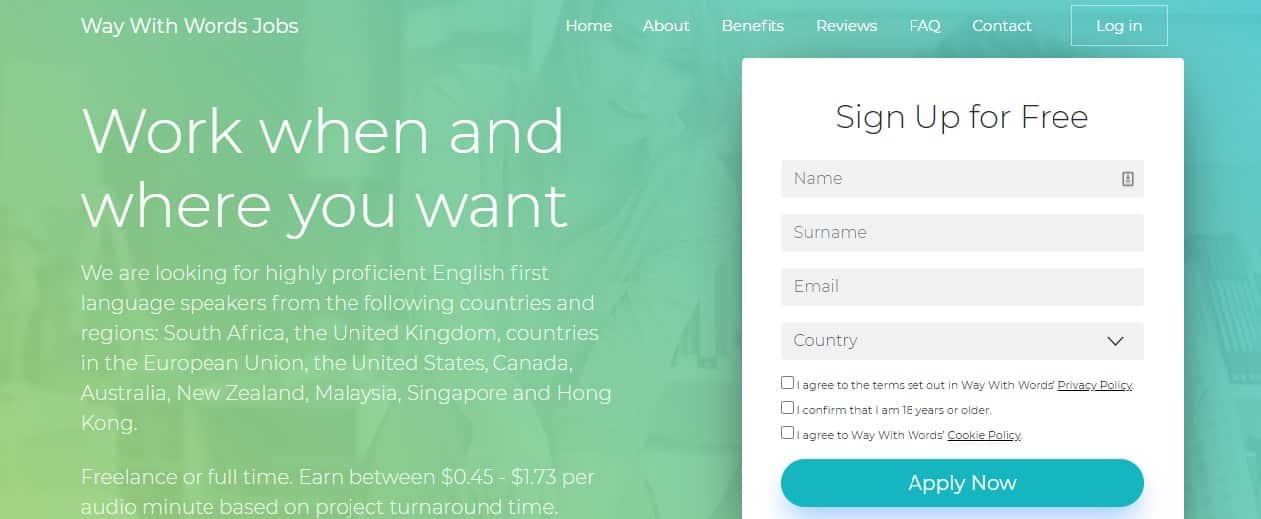 This one is a UK-based transcription company. You certainly need to have a great command of English if you want to take on their 68-minute test. Beginners are however welcome to apply.
Pay for transcription ranges between $0.45 and $1.73 per audio minute and is processed through Paypal monthly.
---

You're required to have some work experience, pay $20 for a background check, and get Express Scribe Pro, among other requirements, to work for Quicktate.
It is a subsidiary of iDictate and you can transition from Quicktate to the latter if you want to work on longer files. Quicktate only has audio files less than 5 minutes long.
Payments are made weekly via PayPal with earnings set at $0.0025 per word for general transcription and $0.0050 per word for medical transcription.
You can also apply for different languages of transcription work so long as you qualify. These include English, French, and Spanish.
You're also free to set your own hours as an independent contractor.

CrowdSurf has audio files split into tiny 5 to 30-second clips which beginner transcriptionists can make an easy job out of.
Their pay is somewhat on the lower side starting at $0.03 to $0.2 per media minute depending on the level of proficiency and amount of work completed.
CrowdSurf's payment options include WM, Visa Card, and PayPal.
To apply, create a personal Work Market account, review their guidelines, and take the transcription assessment test. Results are given in 5 days.
To stay on their team, you'll need to maintain a minimum quality control score of 3.5.
CrowdSurf also has flexible work hours for its transcriptionists. Experience isn't required.
---

Audio Transcription Center has a couple of requirements for you to be considered for a transcriptionist position. They require that you;
Use an email address no one else has access to,

Have a current resume and cover letter in PDF format.

Be able to type at 80 wpm minimum.

Be able to deliver an hour-long file within 24 hours.

Submit a screenshot of the results from a three-minute typing test on www.typingtest.com
The company pays weekly by check and you can expect to make $60 per audio hour for English transcripts or $150 per audio hour for foreign language transcripts.
---

Speak Write exclusively hires USA and Canadian residents. At least one year of experience is required along with a minimum typing speed of 60 words a minute with 90% accuracy for you to take their test.
You'll need a foot pedal once you join their team and commit to finishing tasks assigned to you. Working at SpeakWrite is fairly flexible once you meet their 15-hour quota per month, which you must to stay on their team.
Payments are processed twice monthly through direct deposit or check and a transcriptionist will earn $0.005 per word with a 10% bonus for some shifts.
---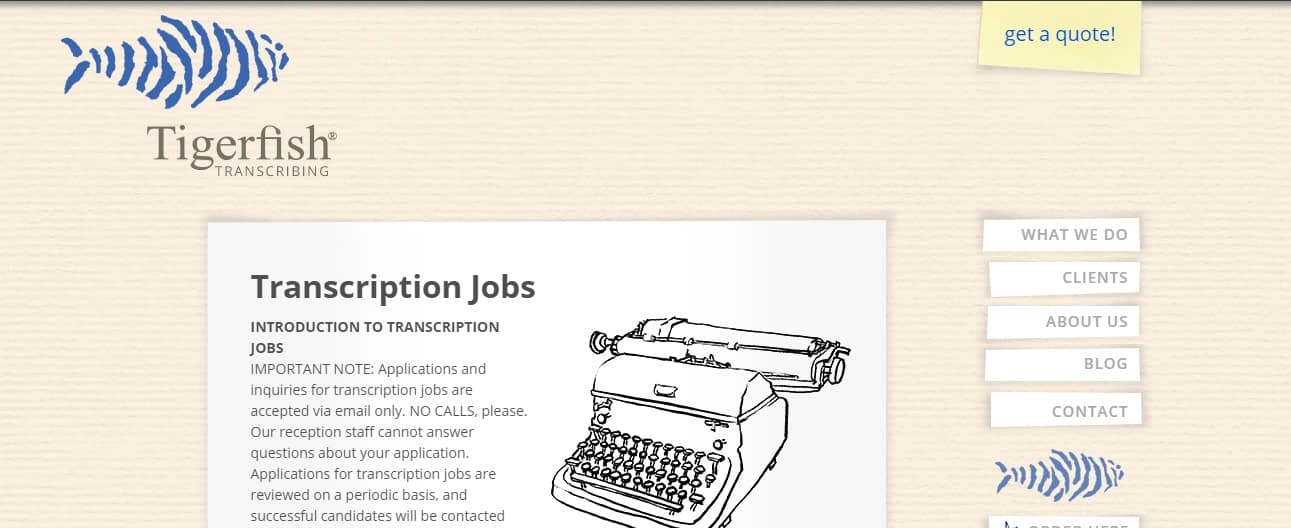 You must be a US citizen or legal resident to work for this company. Applications for Tiger Fish transcription jobs are only accepted via email and their pay starts at $0.005 per word, paid out via PayPal.
Their work hours are flexible.
---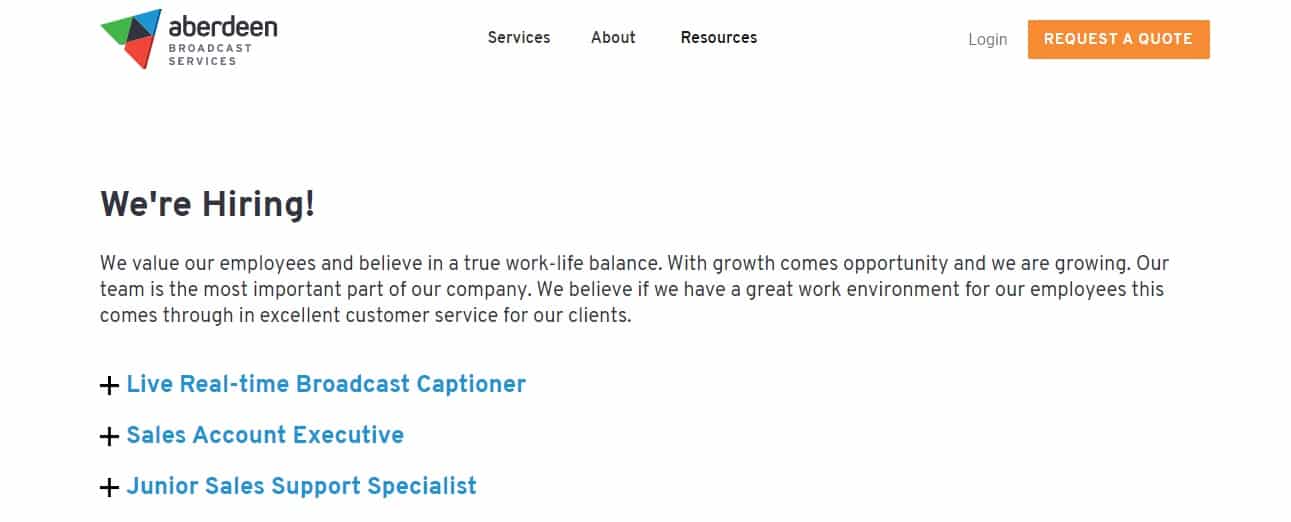 This company deserves mention though the job they offer isn't transcription. Aberdeen offers real-time captioning, a step up from transcribing but still a typing job. You'll have to commit to a 7-day work week starting from 4 pm to 2 am.
To apply, submit a resume highlighting related education and job experience. You'll be contacted to schedule a mandatory real-time captioning test by dialing into their in-house encoder.
To become a real-time broadcast captioner at Aberdeen, you'll need a typing speed of 180-220 WPM minimum, have real-time closed captioning software, plus a few more requirements.
For placement with this company, you must have a minimum typing speed of 50 words per minute and be a Canadian or US resident.
Expect to earn $0.75 to $0.85 per audio minute and have the payment processed on a weekly basis by check
Keep in mind that,
The rate per audio hour is not the same as the Rate per working hour.
You'll quickly discover that typing out audio takes a much longer time than the actual time of audio. On average, transcribing one audio hour translates to about 3-4 working hours for a pro. A novice transcriber will likely take much longer before they get used to transcribing.
This shouldn't deter you from becoming a transcriptionist though, because…
For one,
There's a lot you can do to improve your transcription speed
From investing in a high-quality noise-canceling headset to getting a foot pedal, there's no shortage of tools and software to help you speed up your transcription work. Some are even free. There are quite a few hacks you can apply to transcribe faster.
Two: The rate isn't fixed
It's common practice for companies to pay higher rates for transcripts that require a quick turnaround time. These companies will sometimes pay more when there are more speakers in an audio file or if the audio isn't as clear as it should be.
Three: You have the option to diversify.
Transcription is often needed alongside related services within the same companies. These services include captioning and translation.
The point is, it's possible to work in different roles within a company. Working as a Transcriber, Captioner, Translator, and even as an Editor will compound your earnings real fast and have you making quite a tidy sum if you put in the effort.
You can also work for different transcription companies to address the downtime issue. Maybe with time, you'll settle on the ones that have the best rates.<
Four: Go it solo.
You can source for clients on various platforms and set your own rates. Platforms like Upwork and Fiverr, sometimes even Facebook and LinkedIn, are valuable resources for finding and engaging clients.
So, apply! An at-home transcription job is a very fast way to make money online.