Best Way To Get Free Steam Gift Cards in 2021
Steam is the most popular gaming digital marketplace right now boosting over 30,000 gaming software on their platform.
According to recent statistics, steam has over 65 million active users. This huge success is attributed to having their own game launcher that offers cross-platform support for PC, Linux, Mac, a wide range of games, and a huge following from the gaming community.
So what's a steam Card?
A Steam Card is simply a gift card that can be redeemed through Steam for credit.
Steam gift cards can be bought online or at various physical shops where you can get the steam codes by scratching the card's back to reveal the codes.
You can then enter these codes on your steam account and get the credit loaded into your steam wallet.
Credit from Steam cards can be used to purchase games and downloadable in-game content.
That leads us to the Steam Wallet.
What's a Steam Wallet?
A Steam Wallet is a digital wallet available to all Steam members to electronically store funds, which you can later use for all your in-app purchases.
You can deposit funds on your Steam Wallet by
Transferring funds from a bank account.
Steam wallet codes
Steam gift cards
What are some legitimate ways to get Steam Wallet cash for free?
I'll be candid with this one!
Many free stream card code generators are available online, but I would not recommend any of them.
Steam Codes are only activated once they have been scanned and verified that they have not been used.
I'm pretty sure you don't want to sit all day playing guesswork on hundreds of digital codes that may end up all being invalid at the end of the day!
Most Paid games on
steam
are expensive. This means that scammers are all over the internet ready to prey on desperate gamers by tricking them into downloading programs that are infected with Spyware, Adware, and in extreme cases, Ransomware or other viruses in exchange for free steam gift cards.
It's always advisable to have a trusted Anti-Virus enabled, avoid giving too much personal information, and NEVER, EVER download any files.
Nothing comes for free, so DON'T fall for that BS!
So are there any websites or apps that provide free steam keys?
Absolutely yes!
This article will show you where to get free steam gift cards as well as legitimate ways to earn free Steam Codes and save money when shopping for your next video game.
However, you'll need to spare some time and put in a small amount of work to get something in return.
All I can assure you is that you don't need to spend a penny!
Sounds good, right?
Let us dig in right away!
15 Best ways to get free Steam money in 2021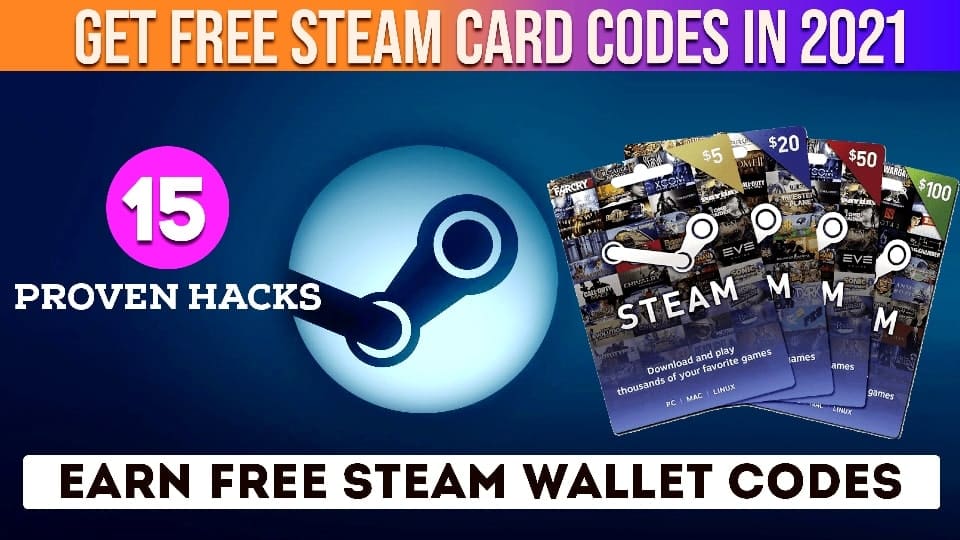 1. Swagbucks
Swagbucks.com  is a reliable and legit source to get Steam Wallet cash. As a registered user, you can earn points by taking surveys, shopping, playing games, and watching videos.
You can later redeem these points for cash or a variety of gift cards, including free Steam gift cards or even cash.
I have earned around $80 on Swagbucks.
That's a 50 dollar and another 20 dollar gift card free and some change, right?
However, it takes many surveys to earn some substantial amount of money, so it is NO easy feat to accomplish, but hey, you'll get a legit steam wallet gift card and for Free!
2. Rakuten
Rakuten is a program that rewards shoppers with discounts cashback.
Rakuten will give you $10 simply by signing up, and as you shop, your cashback will increase.
If you are an avid shopper and you'd like to save some money while buying items, this cashback reward program is for you.
Earn rewards on your purchases. Then, you can use the cashback rewarded to buy a Steam gift card through Amazon.com.
3. Points Prizes
Pointsprizes.com is a website where you can earn free stem cards from brands and advertisers after taking surveys and watching videos.
You earn points after completing these tasks, which you can exchange for PayPal or free Steam codes.
Over the past few years, PointsPrizes has gradually evolved to become a market leader in the rewards site world.
4. Mistplay
Ready to get rewarded while playing your favorite mobile games?
Mistplay.com is a free steam gift card mobile app for Android and iOS where you can earn rewards and later redeem your Units for awesome rewards such as Amazon gift cards, Google, Steam gift cards, Play gift cards, and many more!
5.PrizeRebel
Prizerebel.com is another cool way to earn free ways to get codes on Steam Wallet.
If you're looking for a site that will reward you for completing surveys and other tasks, Prize Rebel is certainly one of the best.
They have a consistent point value that's better than most survey sites, and their payout is far much quicker than their competitors.
Points earned can be redeemed for free Steam gift cards or cash.
6 GrabPoints
Grabpoints.com is the best reward point that provides you with many simple tasks online. Taking surveys is the most popular.
You earn points for every task you complete, which you can later redeem as cash or Free Steam Gift Cards.
7. Join Groups
if you're one of those people asking, "How can I get free games directly from Steam?"
Open up your steam account and search for "steam wallet codes" for groups and get yourself added over there and look out for "giveaways," which are usually conducted during an event.
They require you to share their promotion over social media sites and share it with your friends, increasing your chances(probability) of getting the wallet codes.
8.Join Reddit
Another option is to join Reddit and visit  Reddit Free Games on Stream, which focuses entirely on websites giving away free promotional steam keys.
Make sure to join steam groups and visit websites or pages recommended by the respective group members.
9. Humble Bundle
If you are looking for money to use on Steam, then keep a close eye on Humble Bundle
Humble bundle offers free steam gift card codes with no surveys or downloads. 
In fact, if you go there right now, there's a free giveaway of a game for newsletter subscribers (you can subscribe to their newsletter for free, it pays off because they announce giveaways in it)
Make sure to subscribe to their newsletter.
Humblebundle.com is an awesome place where you can get a good deal on bundles of games for only a fraction of their value.
Is humble bundle trustworthy?
Yes, humble bundle is 100% legit having been in business since 2012. Their physical address and contact details are prominently displayed on the website.
Additionally, the website is just as secure as any other reputable business that accepts credit cards to make an online purchase. They even enable guest checkouts, but it's advisable to create an account with them.
What are you waiting for? Claim those legit free steam gift cards already!
10.  Indiegala
There are various ways to get free steam keys. Frequently http://www.indiegala.com/store gives a free game away, and if you scroll down far enough, you will find a bar that says steam giveaway.
At the time of this writing, they are giving away broadsword: age of chivalry.
INDIEGALA is an EXCELLENT place to get low-cost bundles of games for only a fraction of their value.
Is indiegala Legit?
Absolutely yes! Indiegala is totally legit and a Steam-approved reseller/Bundle Site. I have personally bought a couple of games from them and at some very good prices.
11. Steam gift
Steamgifts.com is a website where you can get a free Steam Wallet gift card.
You have to connect your registered profile to Steam, and then search for games you would like to win(and those from your Steam wishlist) and enter those giveaways the other members create.
You can also create your own giveaways and get higher levels on this site so that you will be able to enter giveaways for those levels.
Is Steamgift Legit? Here's a Review of Steamgift.com
Well, one thing you need to have in mind is that SteamGifts is more of a lottery site for Steam keys, which means that the probability of winning a key might naturally be pretty low.
This basically means your chances are dependent on the number of participants in each raffle you join.
Although everything is thoroughly detailed in the website's FAQ section, there are a few points you should be aware of, as described below.
Membership or contributor level may disqualify you from participating in particular raffles or giveaways. This simply means a high Contributor level qualifies you for greater giveaways.
To improve your contributor level is by organizing your own raffle to give away games. You'll earn your level points after the raffle winner has marked your gift as "Received."
Membership or contributor value is a monetary value assigned to your giveaways by the community. The game's worth is applied to your contributor value as soon as the recipient marks it as "Received"
Another factor that will determine eligibility to a given raffle is the point accumulated under your profile. Remember the more desirable the raffle prize is, the more points you'll require.
For every 15 minutes, you'll collect 6 points passively, up to a maximum of 400 points, so be sure to use them!
You must redeem games using the same steam account used to sign up for SteamGifts. Otherwise, you will very certainly face a suspension.
Additionally, to sign up for a SteamGifts account, your Steam account must be valued at least $100 in non-bundled game purchases. Free-to-play games are also excluded.
The comprehensive list of bundled games is available in the link below
https://www.steamgifts.com/bundle-games.
Having said that, we can certainly say Steam Gifts is a legit way to get FREE Steam Gift Cards and well worth your time; best of luck winning those free steam games!
12. Inboxdollars
Inboxdollars will reward you for completing easy online tasks such as watching videos, taking online surveys, playing games, etc.
It's also a cashback program for avid shoppers and they have paid over $60 million in cash, prepaid virtual cards, and Online gift cards.
Inboxdollars is available as a web version and a mobile app for both android and iOS. It's available in the UK, USA, and Canada.
13. instaGC
Use Rewards Sites and Mobile Apps such as instaGC to earn points and redeem them for Free Steam Gift Cards.
Other websites and apps where you can get free steam gift cards.
There are several websites and apps where you can earn free Steam keys, but most of these games are relatively unknown titles by indie developers.
Here is a summary of websites you'll get free Steam gift cards codes:
Loading site please wait (dlh.net)
indiegala.com: Free steam gift cards now and then.
Humble Bundle (very occasionally, they have a giveaway for a certain game which is usually quite well known but pretty old e.g. Company of Heroes)
Gamekit.com – Games and skins for free! usually has different quests that earn you points from playing other free games
Steamgifts.com, where steam users give away steam keys that they don't need via drawings.
You can also try Apps like AppNana, FreeMyApps, and AppTrailers.
Some YouTube channels and other people/companies/organizations will sometimes make giveaways for Steam Gift Cards.
---
The Takeaway on How to Earn FREE Steam Wallet Codes today!
There are a few ways to get free Steam wallet cash, but it always depends on how you define 'free.'
It's like the various ways of trying to get free money. You can do it with Steam, but you will have to give at least a little bit of something in return.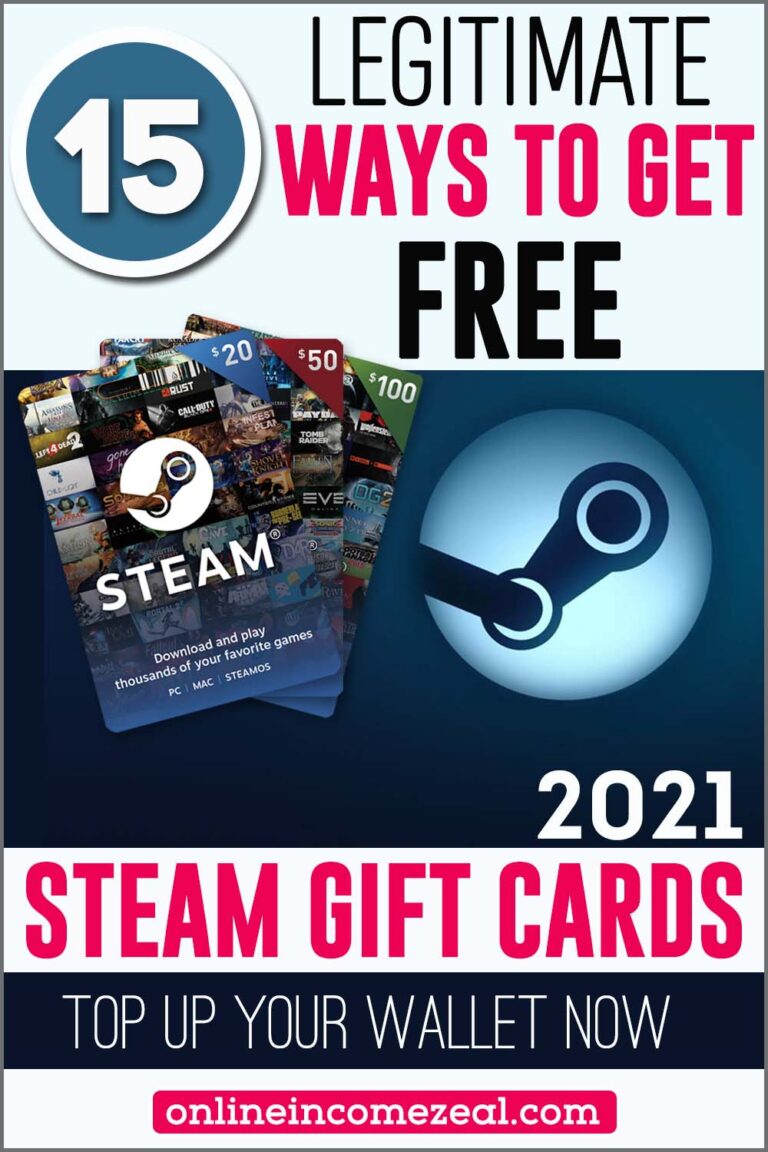 There aren't that many authentic free Steam Gift Card Giveaways, but if you look hard enough, you might discover some more, and if you're lucky, you may even win some free steam keys.
Always keep in mind the legitimacy of a site before you get involved.
The sites mentioned above are real and legit. However, there are certainly other sites that will promise free Steam Wallet money and are unreliable.
You shouldn't restrict yourself to just Steam; every few months, Origin gives out a free game, and most of the time, it's a really awesome game!
Sometimes people re-sell unused cards on eBay for a slightly reduced price but other than that, you'll have to buy one.
That's all of the methods I know of, but if you know of any more LEGITIMATE methods, feel free to leave a message in the comment section, and I'll take a look.
Although most of these websites are legit, it is recommended that you conduct some analysis of any website you intend to use prior to using it. I make no guarantees, and though I feel these sites/apps are trustworthy, I am not liable if you are defrauded or compromised in any way.