Amazon Direct Ship
We're all looking for freebies. It is not only beneficial to test out different things before spending our money, but it is also a wonderful frugal living approach.
It's fun to look for freebies on the internet. There are thousands of things that you may be able to acquire for free.
However, the internet is flooded with money-saving deals and freebie offerings that (in some situations) appear to be too good to be true.
As a result, you're presumably wondering:
How do you receive free things online without falling into the hands of a scammer?
Not to worry!
I'll show you how to receive legitimate freebies with Amazon direct shipment in this article. Yes, Amazon vendors are giving out freebies!
So What is Amazon Direct Ship Freebies?
The term "Amazon direct shipping" refers to when Amazon vendors send free products to customers directly, rather than through Amazon. The direct ship items are then delivered directly to your home from the Amazon warehouse where they are stored.
Amazon's Direct Ship Freebies is a technique used by Amazon merchants to boost their profits. When you consider inventory storage costs, giving away unsold things for free makes financial sense.  Sellers are effectively lowering their expenses by unloading unsold products, resulting in a higher profit margin for the things they do sell.
It is important to understand that these freebies are not delivered to you by Amazon, but rather by the vendor or sellers that you've signed up to.
What Will you be Receiving as Direct Ship Freebies?
I'm sorry to break it to you, but you will not be receiving high-end products.
Hey! it's not all doom and gloom.
Clothing, toys, beauty products, household items and baby items are among the fantastic items you'll be receiving and it's all free! However, don't be surprised if it's something different, such as electronic gadgets or beddings.
You have no say in what kind of freebies you get from amazon direct ship. It is not guaranteed that the products delivered to you as freebies will fit or appeal to you; but, if it does not, you may always gift it to someone else.
You can even go ahead and sell some stuff on eBay which is a way of earning some extra money for free
How many products will I receive through the direct ship?
How and Where To Get FREE Stuff With Amazon Direct Ship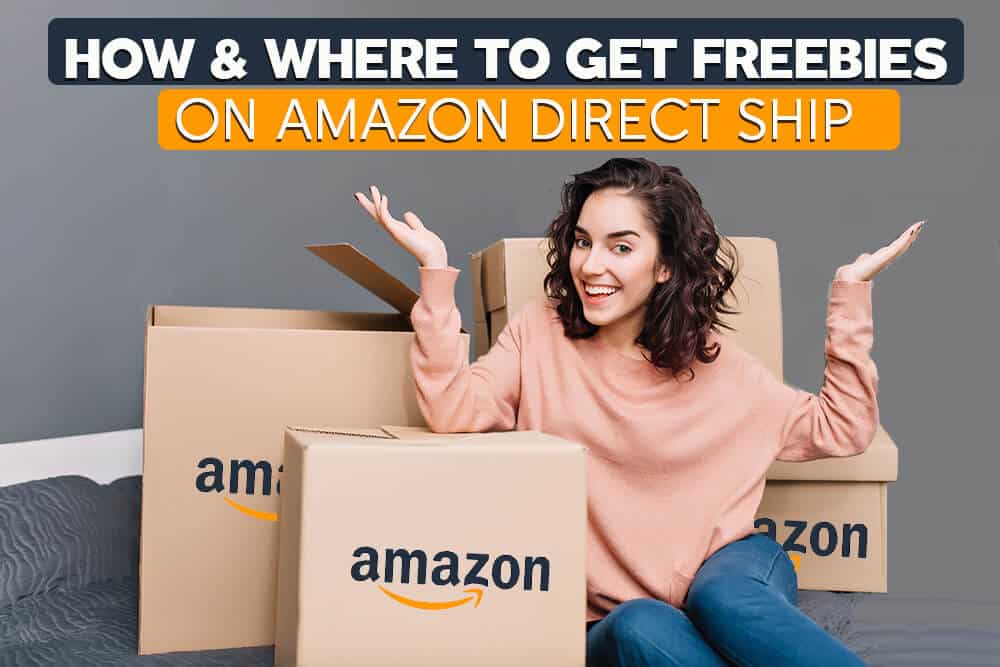 1. Amazon Direct Ship Websites
There are numerous freemium websites available online that focus on coupons, deals, and freebies, among other things.
To help you narrow it down, we've compiled a list of freebie websites that focus mainly on Amazon direct ship.
Internet Steals and Deals: Internet Steals and Deals

is one of my favourite websites.

It has one of the most comprehensive listings of Amazon direct shipping options available online, with over 391 to choose from! 

The list can be found

here

.

Consumer Queen: Consumer Queen

is another

blog that is focused on saving money through couponing, sales shopping, and frugal hacks like getting free things through Amazon direct shipment.

There are over 100 direct shipping offers to choose from at the time of writing this post! Here is the list of forms

 to get freebies via Amazon direct ship

Guide2free: 

Gimmiefrieebies
2. Amazon Direct Ship Facebook Groups
3. Direct Shippers Email:
How To Fill Out A Direct Ship Google Docs Form
How To Avoid Direct Shipping Scams
Frequently Asked Questions
What Are Direct Ship Freebies?

What companies will send you free products?

What are Amazon Direct Shipping Pros and Cons?

Are Amazon Direct Ship Freebies really free?

How long do you need to wait for freebies?

How many freebies can you apply for?

What could you do with unwanted freebies?

Can I get any freebies from Amazon?

Should you have to hand over any banking information?

Is amazon direct ship legit?