If you want to have a good product without having to spend much of your hard-earned money, you might be glad to know about Amazon direct ship freebies.
We're all looking for freebies. It is not only beneficial to test out different things before spending our money, but it is also a wonderful frugal living approach.
It's fun to look for freebies on the internet. There are thousands of things that you may be able to acquire for free.
However, the internet is flooded with money-saving deals and freebie offerings that (in some situations) appear to be too good to be true.
As a result, you're presumably wondering:
How do you receive free things online without falling into the hands of a scammer?
Not to worry!
I'll show you how to receive legitimate freebies with Amazon direct shipment in this article. Yes, Amazon vendors are giving out freebies!
So What is Amazon Direct Ship Freebies?
The term "Amazon direct shipping" refers to when Amazon vendors send free products to customers directly, rather than through Amazon.
The direct ship items are then delivered directly to your home from the Amazon warehouse where they are stored.
Amazon's Direct Ship Freebies is a technique used by Amazon merchants to boost their profits. When you consider inventory storage costs, giving away unsold things for free makes financial sense.
Sellers are effectively lowering their expenses by unloading unsold products, resulting in a higher profit margin for the things they do sell.
It not only saves them money, but it also increases the number of individuals who are aware of their products.
It is important to understand that these freebies are not delivered to you by Amazon, but rather by the vendor or sellers that you've signed up to.
What Will you be Receiving as Direct Ship Freebies?
I'm sorry to break it to you, but you will not be receiving high-end products.
Hey! it's not all doom and gloom.
Clothing, toys, beauty products, household items and baby items are among the fantastic items you'll be receiving and it's all free! However, don't be surprised if it's something different, such as electronic gadgets or beddings.
You have no say in what kind of freebies you get from amazon direct ship. It is not guaranteed that the products delivered to you as freebies will fit or appeal to you; but, if it does not, you may always gift it to someone else.
You can even go ahead and sell some stuff on eBay which is a way of earning some extra money for free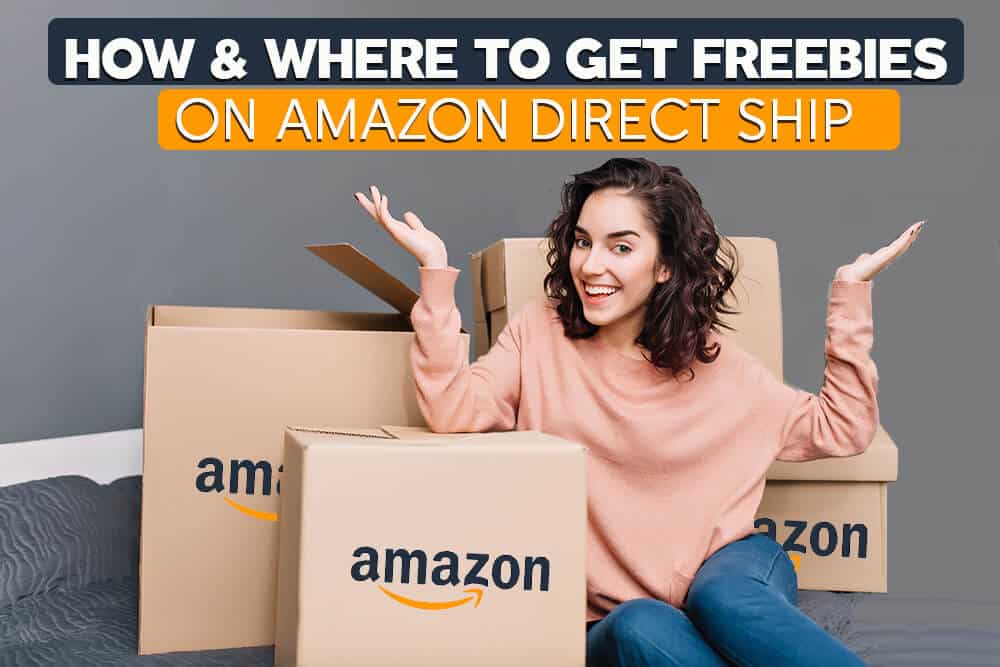 How and Where To Get FREE Stuff With Amazon Direct Ship
1. Amazon Direct Ship Websites
There are numerous freemium websites available online that focus on coupons, deals, and freebies, among other things.
To help you narrow it down, we've compiled a list of freebie websites that focus mainly on Amazon direct ship.
Internet Steals and Deals: Internet Steals and Deals

is one of my favourite websites.

It has one of the most comprehensive listings of Amazon direct shipping options available online, with over 391 to choose from! 

The list can be found

here

.

Consumer Queen: Consumer Queen

is another

blog that is focused on saving money through couponing, sales shopping, and frugal hacks like getting free things through Amazon direct shipment.

There are over 100 direct shipping offers to choose from at the time of writing this post! Here is the list of forms

 to get freebies via Amazon direct ship

Gimmiefrieebies:  Gimme Freebies has compiled a collection of Amazon direct ship forms. Their direct ship list is particularly useful because each direct ship offer specifies which countries it is available in, which categories of free items you will receive, and any additional restrictions (such as following a company's social media page) you must complete in order to sign up. It's a fantastic resource that you should make use of!
Guide2free: The website has a list of emails where you can send requests and even fill out forms. Click here to visit the website
2. Amazon Direct Ship Facebook Groups
You may find legitimate direct ship offers in these Facebook groups, and they can also assist you to avoid falling victim to scammers.
Just make sure you read the regulations for each Group thoroughly and adhere to them at all times.
3. REDDIT
So let's look at how Reddit can help you get started with Amazon Direct Shipping.
You may also utilize Reddit to look for subjects of interest. You'd find innumerable talks on the subject and many groups of people who have the same interest. It's Amazon direct ship gratis here.
Daily, people would post about it and others would remark on it. People can then vote for or against these remarks, and more can be added.
A lot of people would want to see successful connections to vendors and experts on Amazon direct delivery.
The more people that upvote a remark, the higher it appears on the thread. The excellent thing rises to the top, while the bad stuff sinks.
Thousands of other people evaluate the junk and promote the excellent material directly into your lap.
Just like Facebook, you can use the search box to type in terms like "Amazon direct shipping" or "direct ship freebies" and you'll be good to go. Join the sub-Reddit communities that sprout up or simply browse for articles and comments that interest you.
Notably, you do not need to be a Reddit member to view posts, comments, or offers related to Amazon free shipping offers. To join a specific sub-Reddit, you must first establish an account. It's all free, so no big deal.
You may either search straight from the "Search Reddit" box or start with r/freebies. From here, you can filter for Amazon direct ship freebies.
4. PINTEREST
In addition to Facebook and Twitter, Pinterest is another social media platform that may be used to get started with Amazon direct shipment. Images, or "pins," are shared with the intention of passing along information or directing you to other websites.
As a side note, some website owners or administrators of Facebook and Reddit freebie pages will share posts on Pinterest that lead you back to their respective websites or social media pages.
How To Avoid Direct Shipping Scams
It is vital to give out little personal information. Double-check the legitimacy of these direct ship offers using forums such as Reddit or direct ship Facebook groups.
For the best chance of staying safe, ask other members whether they have interacted with the firm.
r/freebies is a fantastic subreddit to get started with. 778k people subscribe to this subreddit, which is dedicated to finding freebies, whether they be Amazon direct ship deals or other freebies of any kind.
Additionally, on the subreddit r/freebietalk, members exchange photographs and stories about their experiences with free products offers.
Filling Out Direct Ship Forms – Step by Step Instructions
Filling out the Google docs form for direct shipping is a simple and quick procedure to complete.
Direct shipping forms and offers are easily accessible once you've joined any reputable Facebook Groups and Reddit communities dedicated to amazon direct ship.
Most of the time, you'll be asked to fill out a short form and then hit the "submit" button. That's all there is to it.
You should be particularly cautious while you are filling out these forms, because many firms will want information such as your name, mailing address, email address, and in some instances phone number, in order to deliver your items.
Once again, thoroughly investigate these direct ship offers and use your best judgment to assess whether or not they are reputable sources of information.
Frequently Asked Questions
Is amazon direct ship legit?
Yes! Some individuals are concerned about direct shipping frauds, and that's a real issue to be concerned about. It's perfectly legal to get freebies from direct shipping merchants.
Countless merchants are seeking customers to whom they may ship their surplus inventory.
What companies will send you free products?
Amazon does not send out the freebies; they come from merchants who need to get rid of surplus inventory.
Amazon currently has over 2 million third-party sellers, so there is no shortage of products. That's a lot of merchants that could be in the market to get rid of inventory!
The Amazon network handles all delivery for vendors that choose Fulfillment by Amazon (FBA).
Amazon will be notified by the vendor after you have been selected to receive free stuff. The products will then be packaged and sent to you by Amazon.
The Amazon staff will also be available to assist customers with any issues they may have.
How long do you need to wait for freebies?
It's always a surprise. In a few days or weeks, you might receive your first freebie, followed by a slew of others in the months to come. You might say it's the holiday season all over again. A burst of joy comes out of nowhere!
What are Amazon Direct Shipping Pros and Cons?
Pros:
For free stuff, there is no need to take surveys as you would with Swagbucks.
Find out about new products or brands that you didn't know about before.
In Large groups and Forums, there are a lot of direct ship freebies! Every day, there will be direct ship forms to fill up.
There is no need to contact vendors, which might take time.
It allows you to check with other members to see whether someone has just joined. This can assist you in weeding out the fraudsters!
There is no limit to the number of freebies that can be applied for. Apply for as many positions as you want!
Cons:
You have no control over the things you will receive; everything is purely random.
A credible offer may still be difficult to ascertain. Always use caution and refrain from disclosing sensitive information. Avoid the Amazon direct delivery fraud by chatting with other members or reading my guideline.
You can not be able to predict when the items will be delivered, as this is dependent on a variety of factors.
Should you have to hand over any banking information?
Don't hand out personal information like bank accounts, credit card numbers, or social security numbers to anybody you meet. It's a massive red flag if direct ship offerings need any of these details!
Make a temporary email. Many companies, such as Gmail, provide free email accounts. Use one pseudo email address for all direct ship forms. This protects your personal email address.
Instead of your home address, use a P.O. Box. This is a little more complicated than simply creating a free Gmail account, but if you're going to be filling out a lot of direct ship forms, it's an excellent approach to secure your identity.
Always avoid using your real phone number and instead use an alternate number using applications like TalkU for a few bucks per year! These apps allow you to change your area code and phone number and receive calls and messages just like a regular AT&T or Verizon mobile number. It's the best way to avoid scammers from getting your true phone number.
How To Get a Free Amazon Prime subscription for Half a Year:
As a student, you can sign up for Amazon Prime Student and get Amazon Prime and all of its benefits for free for six months and 50% off after that. If you have a student email, you can get all of this for free.
A lot of other things will happen as well. You'll get free GrubHub+ Student membership (for as long as you have Amazon Prime), a 3-month free subscription to Calm, and a 1-month free membership to Course Hero as well.
Conclusion on Amazon Direct Shipping 
Now that you've learned everything there is to know about Amazon direct shipment and how to have those freebies sent to your doorstep, go ahead and sign up to get your name added to the lists of select vendors.
Those parcels of goods will arrive before you realize it, and they will arrive when you least expect them!
Have you ever tried to ship directly from Amazon? Do you already receive a large number of freebies from Amazon direct ship? Is there anything else you'd want to add? Please share your thoughts in the comments section below. We would much appreciate hearing from you!