How to Become A Virtual Assistant With No Experience
Would you like to get into virtual assistance as a new career path or side hustle?
Wondering; Do I really have the experience needed?
Tell you what,
Yeah, you do! Chances are you already have relevant experience to become a Virtual Assistant (VA), you just don't know that you do. But even if you don't, opportunities to learn on the job are plenty, which means you can become a Virtual Assistant, even with no experience!
To top that, you can take up this career from anywhere in the world and potentially earn thousands of dollars every month working from home. The path to becoming a VA can actually be short and relatively easy. That is if you know what steps to take
A few questions you should ask though before you set on this path;
Who is a Virtual Assistant?
The simplest definition that comes to mind is that a virtual assistant is someone who offers administrative services remotely. A Virtual Assistant delivers services and interacts with the businesses they work for online.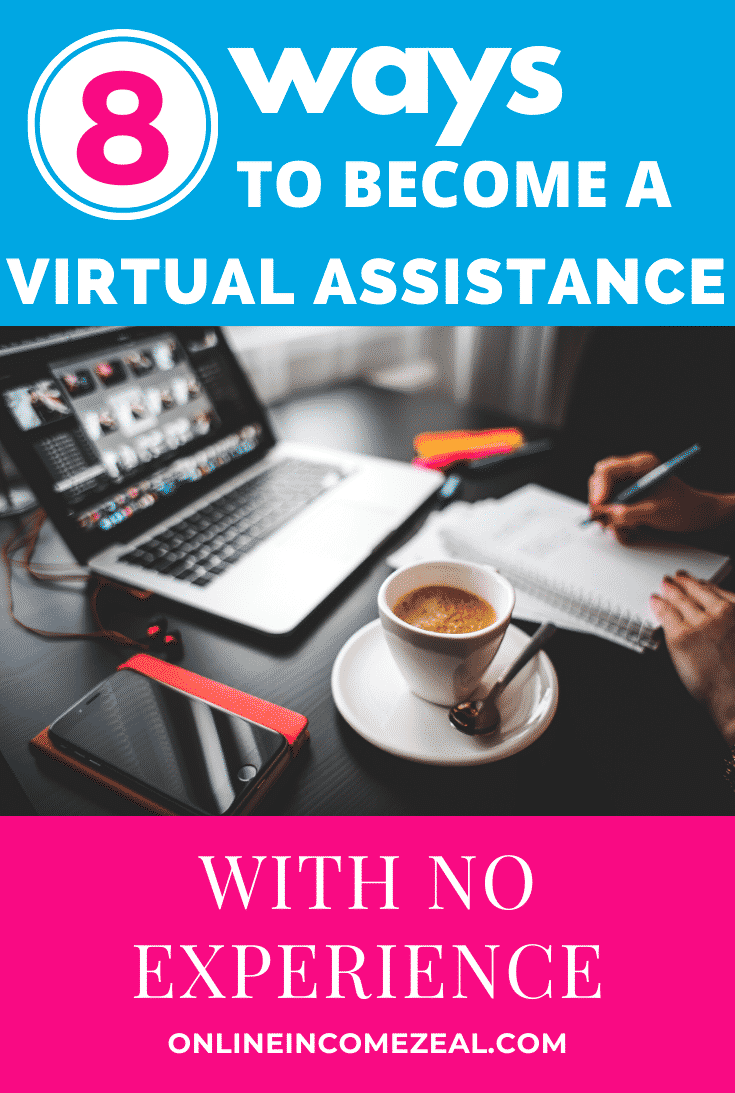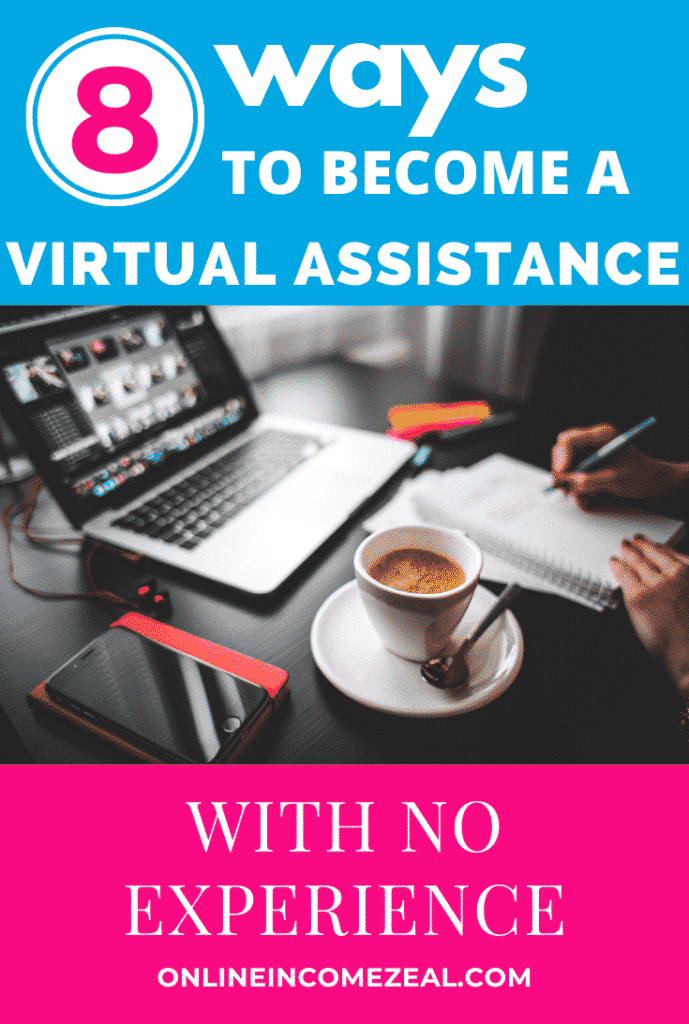 Common tasks you'll engage in as a VA include email handling, scheduling appointments and even handling calls, your typical admin/secretarial tasks.
Services a Virtual Assistant offers have however expanded and continue to grow.
They encompass a much broader set of services than the traditional administrative tasks and can be pretty specialized, requiring a high level of know-how.
Some of these specialized services are but are not limited to;
Transcription
Graphic design
Email marketing and management
Social media marketing/management
Marketing research
Project management
Video Editing
Though these are some of the most in-demand virtual assistant services, the list is nowhere near exhaustive. So, I'll adjust and say a more accurate description of a Virtual Assistant would be someone who has a service they can offer online to a business that would help the company in its operation.
Is there a demand for virtual assistants?
Given the variety of services virtual assistants offer and the equally vast set of tasks that businesses outsource these days, then yeah, there's definitely a demand for VA services.
Your goal, therefore, needs to be paired with the business owners that need your set of skills the most.
Virtual assistance is really a profession that centers on supporting other entrepreneurs in growing their businesses.
You however need to strike a balance between supporting your clients' businesses and building your own. More on that in the following sections.
What are the benefits of becoming a VA?
Flexibility: The first perk that comes to mind is the flexibility of setting your own hours. When and how long you want to work is completely up to you. Should you want to cut your hours to, say 20 hours a week instead of the more standard 30-40 hour work weeks or pile on the work at the beginning of the day, you can.
That level of flexibility isn't exactly possible with a rigid 9-to-5 job. Flexibility allows you to make, change, or optimize your schedule to even accommodate other aspects of your life away from work.
Freedom: We already covered the aspect of managing your own time. Add to that picking whom you want to work with, where you want to work and what work you actually want to do. You have the freedom to choose over having someone dictate what you should do.
More Financial Security: Setting your own rates and even raising them from what you currently earn as an employee would mean you'd earn enough money to sustain the lifestyle you want, and perhaps clear debt or save more.
However,
The VA world isn't for everyone, especially if you lack the basic skills that would serve as a foundation for running the business.
Knowing your way around the internet is really important. From using different media to communicate and collaborate, to using industry-specific and general virtual assistant tools.
Tools for doing research, you need to be comfortable working online because that is where everything happens for your VA business.
Good communication is another vital skill for running your business online. Being available and giving timely responses to your clients will ensure your business relationships don't sour or crumble altogether.
Grit and consistency. Applying for jobs isn't always successful and there's a lot of rinse and repeat, adjusting to do before you start earning a consistent income. You also need to stay up to date with what's happening in your industry to keep your skills relevant to the market you serve.
So, how do you actually become a Virtual Assistant With No Experience?
This sounds simplistic, but it boils down to getting hired, remotely! Get hired online for your services, keep getting hired, and you're a virtual assistant.
But do you have an actual skill to offer for hire?
What skills do you need to become a virtual assistant? Where will you find clients and most importantly, how will you get paid?
Quite a bit to consider, right?
In a nutshell, let's look at what you need to know;
What services to offer
How much to charge for your services
Where to offer your services/ Where to find clients
How clients can find you/to set up your website (including what should be on it!)
How to effectively pitch to clients
Working with clients
How to get paid
Let me take you through each step;
1. What services to Offer as a Virtual Assistant
The services you will be offering are dependent on a few factors starting with whether you want to offer a general set of skills, probably centered around administrative tasks. For instance, you could do data entry, email correspondence, travel planning, and light bookkeeping.
Here, you could decide to offer just one specialized skill. The advantage is that you could do a deep dive into one task.
A good example would be, rather than do something like creating a website, writing the content, and creating the graphics for it, you could concentrate on one of the three tasks.
You might decide to center your services around creating websites, concentrating on the technical side of things to optimize website performance then leave the writing to an SEO writer who knows how to write articles that rank on Google.
Again,
There are so many specialized services to offer. Here are a few more popular examples of virtual assistant jobs.
Podcast editing, writing show notes and uploading to podcasting platforms
Affiliate program creation and management
E-course creation
Real estate virtual assistance
Facebook Advertising
Editing or proofreading
Research
Accounting
Copywriting
Pinterest management
So, think of a skill you've used before at work or one you're comfortable with from your lived experiences and package it as a service.
What if I really don't have any experience or skills to offer as a Virtual Assistant?
If you already have a skill you can monetize and offer as a service, then skip to the next section. Apply every one of the steps and you're well on your way to becoming a virtual assistant.
If you don't have any specialized skills to offer yet, you can still become a VA. Even with no experience, working from home is still possible. Just take a course in your preferred field of specialization of Virtual Assistance.
And Virtual assistant certification, free or otherwise, isn't really necessary in my opinion, but a skill definitely is. There are a number of courses to choose from on platforms like Udemy that will equip you with your preferred specialized skill.
Look at the services listed here and pick one or two you'd like to take a course on then head on over to Udemy or Skillshare to start on a course.
Once you have decided on what service to offer, it's time to think about…
2. How much to charge for your Services
A few factors to consider here, one is covering the expenses of running your VA business. Costs might include paid-for software, internet, taxes, and office space. You'll need to factor these in over and above what you'll expect to earn, your actual take home.
Once you've factored overheads plus your desired earnings, let's work with $4000 a month in expenses plus earnings, you'll need to structure your pricing with this figure in mind.
This can take a number of forms;
You're literally trading your time for money here so a few things need to be set in place. Time tracking for one, which you can do with software like Harvest or Timing if you work on a macOS.
And how many hours do you want to work in a week?
If for example, you want to work 20 hours a week, that comes to a total of 80 hours over 4 weeks, a month basically. Divide the $4000 by 80 and you get $50 as your hourly rate. This is not a perfect system since you might not be fully booked from the get-go, and you do need to keep your rate within a realistic range.
The idea is to factor in expenses. You could also factor in expenses by inflating your desired take home or current earnings by a given percentage, say 25% to cover for any overheads.
A retainer normally covers a weekly or monthly period for which you're paid in advance so that you're readily available when needed, an on-demand virtual assistant basically. Again, remember to factor in your overheads before settling on an acceptable figure as your retainer.
Charge for services with set deliverables
The advantage of this is that there's no scope creep. An example of this is if you decide to offer transcription for a set fee for each hour of audio, or X number of graphics for a set amount. You offer a productized service and the client knows exactly what to expect.
3. How to get a job as a virtual assistant and where to find clients.
Your Virtual Assistance service is relevant to any number of businesses needing help in their operations.
Prospective clients include regular brick-and-mortar businesses looking to establish an online presence, business coaches needing help looking for speaking engagements or email marketing help, and Other virtual assistants outsourcing some of their work.
Really, the list is quite long.
So,
where to find these clients;
You can find prospective clients and market your virtual assistant services through,
I would recommend one of the two as the top site to find clients. That's Facebook and LinkedIn.
Facebook hosts a number of groups where virtual assistants learn from each other and even post jobs. Some Facebook groups that come to mind include Virtual Assistant Empowerment, Virtual Assistant Savvies, and Virtual Assistant Tribe Job Board.
LinkedIn, on the other hand, is a platform for professionals looking to connect with other professionals. How you get jobs here is prospective clients can search for someone with your particular set of skills and land on your profile on the platform.
There's an option to show that you're actively looking for new roles that recruiters or business owners can see.
There's also a job board on LinkedIn that lists job openings available remotely.
Best Virtual Assistant companies/Agencies or Freelancing platforms.
Below is a list of some of the best virtual assistant companies to work for.
These agencies and freelancing platforms offer awesome opportunities to work from home as a VA.
Just to name a few.
These platforms are also a great way of doing some research on services that are in high demand and might be a place to gain a few insights on pricing services. They also have loads of useful information for virtual assistants.
This one gets tricky if you don't know how to approach it. It calls for sending unsolicited emails to prospective clients to pitch your services.
On the flip side of where to find clients…
4. How can clients find you?
Well, you need an online presence for that. Other than having your profile up in a few of the platforms I've mentioned, you might need a website so that clients can find you when they're looking for a VA on search engines like Google or Bing.
Some things to include on your site are your profile, which describes who you are and what services you offer, a portfolio of previous work, testimonials from clients you've worked with, and your contact information.
5. How to effectively pitch clients
Your profile, portfolio, and testimonials on the platforms mentioned above are enough for a client to hire you if they're compelling enough.
Some clients need a little more convincing though. Now that they've seen you, you'll need to take things up a notch by reaching out.
This takes the form of applying for the jobs they post, being helpful and active in the groups you join, and cold pitching to clients you're confident would benefit from your services.
Alternatively, you could offer to work for a trial period. Not for free though, a discounted fee or a testimonial in place of any payment would still be a huge plus as it would mean the client has taken a step closer in your direction over any other VA.
Be consistent with all these activities and continually sharpen your skills so that you're irreplaceable to your clients.
6. Working with clients
Communication is so very key. Ask your prospective client for specific, quantifiable deliverables for the projects you take on so as to avoid scope creep and misunderstandings on what is expected.
Again, communicate in a timely manner.
Contracts outlining what is expected of both parties, namely you and your client, will help both of you in sticking to the agreements set out.
7. How to get paid
You could do direct bank transfers to your account. Another option that is widely used is payment options online such as PayPal, Wave, and TransferWise.
For these online payment options to work, you'd need to set up an account. Keep in mind that platforms like PayPal have charges you need to factor in.
That's pretty much all you need to become a virtual assistant, even with no experience!
Conclusion: Ready to work from home as a Virtual Assistant now?
Over time, you'll realize that working as a virtual assistant is an evolving process. You might need to add a skill, tweak it, or completely eliminate it in favor of a more profitable one.
You'll definitely need to raise your fees or switch from hourly pay to a retainer.
A change in your schedule is also inevitable to accommodate your growth in this field. This progression will also mean outsourcing work when you need to. That's what the roadmap to a successful VA career looks like.
But I'm getting way ahead of myself.
Start with this detailed roadmap guiding you and see how you like being a Virtual Assistant.