Selling Used Underwear Online: A Beginner's Guide
Are you looking for a new side hustle that can help you make some extra cash? Selling used underwear online might sound like a bizarre idea, but it's a growing trend that has helped many people earn money from the comfort of their own homes.
You may be thinking, "Used underwear and panties? That's gross!" But hear me out. This market is not only growing but it's also filled with people willing to pay top dollar for the most intimate of garments.
Selling dirty underwear online is one of many kinky ways to make money online that we have covered that has a unique and flourishing market that could be your ticket to financial success.
As with any market, there are certain strategies and techniques that can increase your chances of success. By understanding the psychology of the buyer, knowing how to appeal to them, and staying safe and legal, you can tap into this market and start making money today.
So, before you dismiss the idea of selling used underwear online as gross or strange, consider the potential it holds. This is a market that is waiting to be tapped, and with the right approach, you could be the one to reap the rewards."
Table of Contents
The market for used panties is a unique niche that operates primarily online, with websites such as Sofiagray, snifffr, and Pantydeal catering to this demand. We have also discussed how to sell your used underwear on Craigslist.
These platforms offer an opportunity for sellers to showcase their "products" to a wide audience of potential buyers, and provide buyers with a diverse selection to choose from.
While the sale of used panties may be a controversial topic, the market continues to flourish, with some individuals achieving significant financial success.
In this comprehensive guide, we will provide you with valuable insights and strategies for successfully selling used panties online.
By reading on, you will gain a deeper understanding of the market and be equipped with the knowledge necessary to navigate it effectively. So, let's dive in and discover the secrets of the used panty market.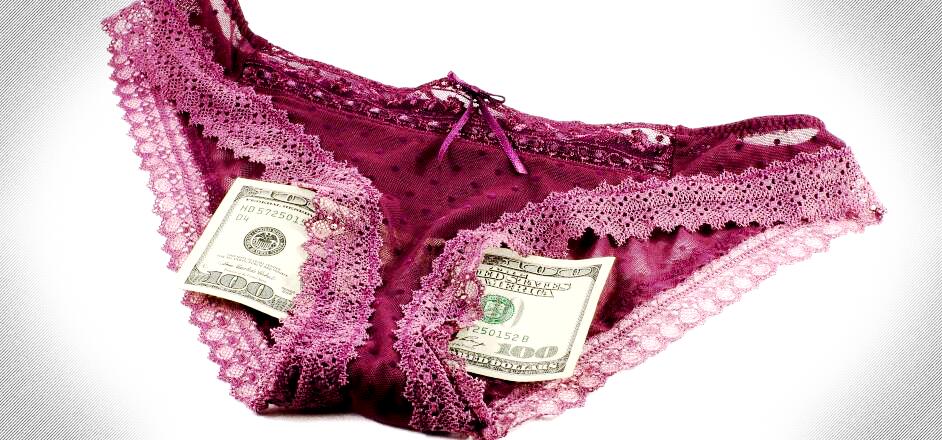 Where can I sell my used underpants online: Finding the Right Website or Platform for Your Used Underwear Sales.
You won't find anyone by asking about folks who might be willing to pay for your worn underwear. It's also a bad idea to post a big sign saying "Used panties for your fancy."
Let's discuss some factors to consider while looking for the best website or platform for your used underwear sales, shall we?
Terms of services: Some platforms may have specific rules or restrictions on the sale of used items, including used underwear. Make sure to read the fine print and understand any limitations or consequences that may come with using a particular platform.
Fees and commissions: Some websites charge listing fees or take a percentage of each sale as a commission. While these fees can vary significantly, it is important to understand how much you will be paying out of your profits.
Audience and Reach: it is worth considering the size and demographics of the platform's user base. Some websites may have a larger or more targeted audience, which could potentially lead to more sales.
Level of support and resources provided by the platform. Some websites offer tools and resources for sellers, such as shipping labels and customer support, while others may offer more limited support.
Reputation and trustworthiness of the platform. Look for reviews or testimonials from other sellers and buyers to get an idea of the platform's track record.
Finally, the best website or platform for you will depend on your specific needs and goals as a seller. It is important to do your research and weigh the pros and cons of each option before making a decision.
Just to round it up, a good panty-selling website makes it possible to conduct online transactions in a secure and anonymous manner.
Best websites where you can sell your used panties and make some extra money.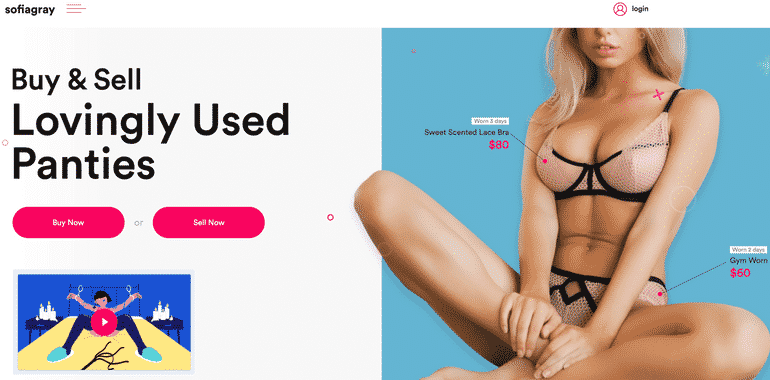 Sofia Gray is one of the best platforms to meet potential clients who are willing to buy your worn underwear. You may also submit extra hot material for users, such as spicy photos and video clips, in addition to your worn underpants.
Extra SG coins are required for access to popular items. As a bonus, you'll be able to reveal some naughty details about yourself. Interview sections allow vendors to answer some kinky questions too such as "preferred positions" in order to entice potential customers.
There are no additional costs or hidden charges for vendors to register. Additionally, you may earn additional coins by posting spicier images or videos and by responding to messages from other possible clients after you sell your worn pantyhose.
Women who sell used knickers are certain that their identities will not be revealed and that remain Anonymous.
Sofia Gray does not get any private information from its customers, hence it does not maintain or share any information about its customers with anybody else.
>>>Click here to Visit Sofia Gray >>>
2. Snifffr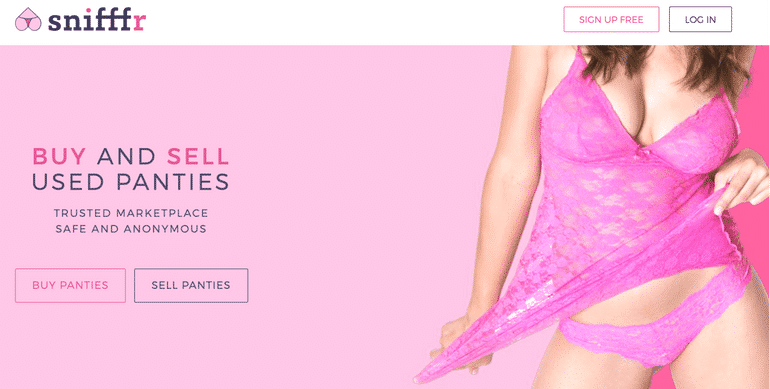 Snifffr is a great site to sell your worn underpants. Flexible market settings and support are provided throughout the process.
Useful information on how to sell used underwear online, how to treat clients, and delivery is provided. It's absolutely free to join and there are no further fees.
The design of the site is simple and easy to navigate, and the customer service team ensures that all users remain anonymous throughout their interactions with the site.
Additionally, Snifffr provides a variety of goods to its customers, so you may make extra income by listing various pieces of your intimate apparel on your personal profile.
Last but not least, sexting and providing customers with an outstanding webcam experience might bring in some money for you. You get the gist, don't you?
>>> Click Here to Visit Snifffr >>>
3.Panty.com

If you're looking for a place to sell your worn underpants, Panty.com is an excellent choice.
You may select the most appropriate currency (USD, GBP, EUR) for your location and nation based on the information provided. Other than that, you may also join in cam chats and post attractive pictures to attract additional buyers.
If you're selling panties online but also want to make a little more money on other items that men might be interested in, you can just list some items in the Other area.
Other forms of undergarments such as bras, stockings, thongs, pantyhose, and so on can be found in this section as well. Even though you might be curious as to what type of individuals are purchasing all of this stuff, the market is genuinely thriving right now.
If you want to sell your used underwear, you should offer as much information as possible regarding the products. Inform users about the length of time you wore the item, when you wore it, as well as the size, substance, and form of the item.
You might also conduct some research and hunt for legitimate purchasers who could assist you in closing a very lucrative transaction. Send a text to the people you like the most, offering your underwear. But don't be pushy; you'll attract more clients if you don't oversell.
>>> Click Here to Visit Panty.com >>>
Pricing and Advertising Your Used Underwear: Tips and Strategies
Pricing and advertising your used underwear can be a crucial factor in the success of your business.
Here are some tips and strategies for effectively pricing and advertising your used underwear to attract buyers and earn a profit.
Research the market: Before setting your prices, it can be helpful to research what other sellers are charging for similar items. Look for trends and patterns in pricing, and consider how your items compare in terms of condition, customization, and other factors.
Set competitive prices: While it is important to earn a profit, it is also important to be competitive and attract buyers. Consider pricing your items at a level that is fair and reasonable, while still allowing for a profit.
Offer customization: Some buyers may be willing to pay more for customized or special requests. Consider offering options such as specific scents or wear periods for an additional fee.
Use high-quality photos: Good-quality photos can be a crucial factor in attracting buyers. Use clear, well-lit images that accurately showcase your items.
Be clear and transparent: Be upfront about the condition and wear period of your items, and clearly communicate any special requests or customization options. This will help to build trust and ensure that buyers are aware of what they are purchasing.
Use social media and other marketing techniques: In addition to advertising your items on the platform you are using, consider using social media and other marketing techniques to reach a wider audience. You can create a website or blog, use social media platforms such as Instagram or Twitter, or participate in forums and discussion groups related to used underwear.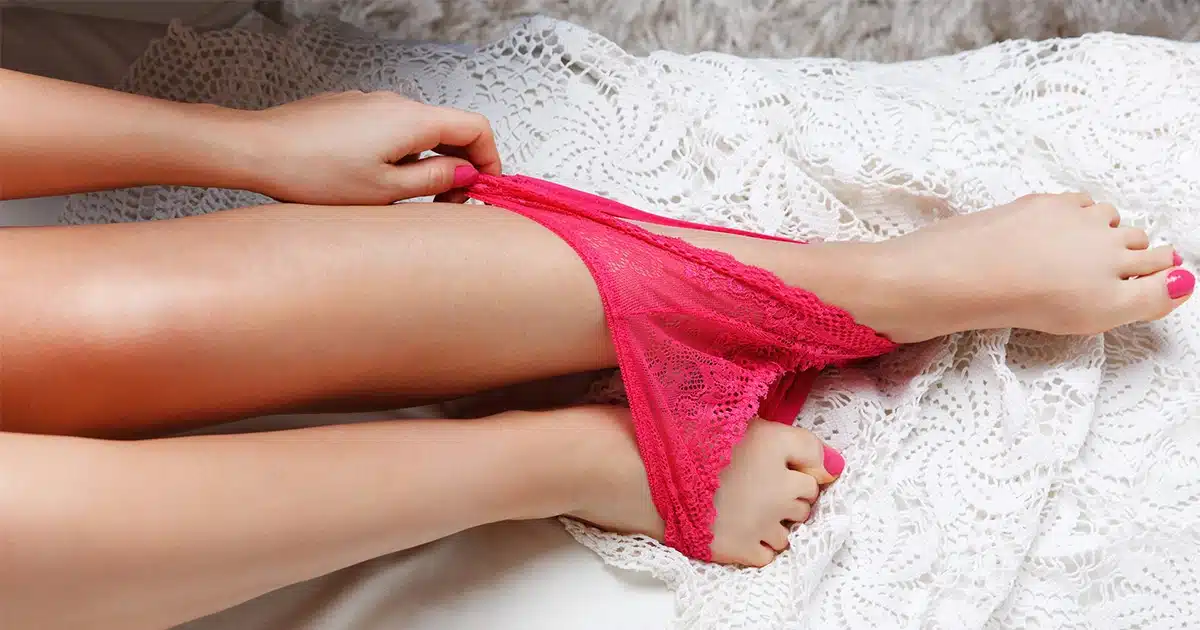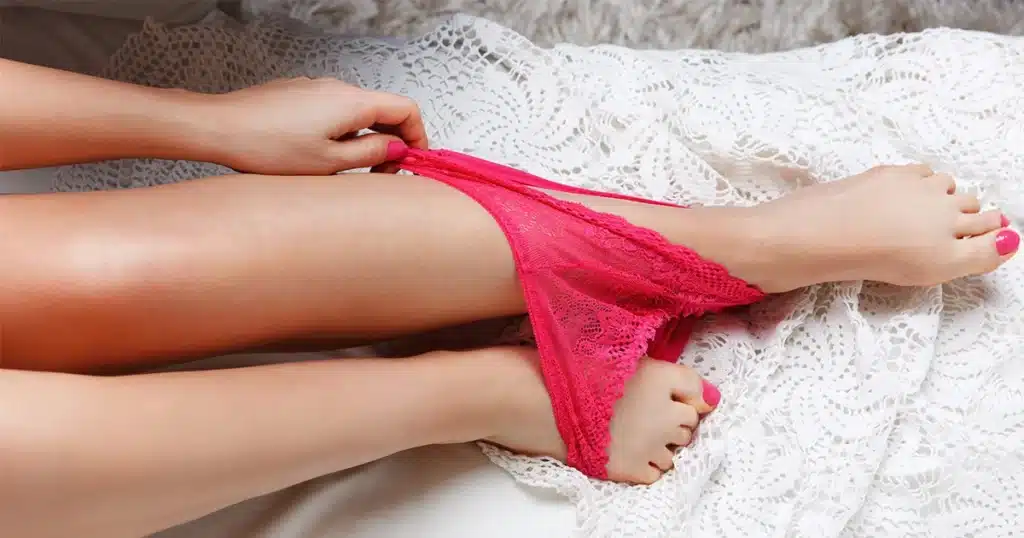 How Much Money Can You Make Selling Used Underwear Online?
The Ability To Earn Several Hundred Dollars Each Month Is Not Out Of Grasp At All. Of course, some people are earning far more than that amount.
To boost the likelihood of obtaining sales and clients, one strategy is to market and sell items to various used panties platforms on the internet.
According to one of the websites I researched above, the average seller receives around 8 transactions each, given that most underpants sell for between $20 and $30 each piece, you might expect to spend roughly $200 per month on underpants.
It goes without saying that you will have to include the cost of underwear (which you can acquire for cheap on Amazon or Target) as well as any seller service charges that you may be required to pay. Mostly, your customer will cover the delivery fees.
Want to spice up things and stand out from the rest? I found this page that has the Bestsellers in women's lingerie. 
What Are The Pros And Cons Of Selling Used Underwear?
The pros of selling used underwear include the potential to earn extra money and the opportunity to explore and express one's sexuality. However, there are also several potential drawbacks to consider.
Pros
Easy to start: Creating the product is as simple as doing nothing. Simply put on your underwear as you normally would, create an internet listing, promote, and wait for a buyer to put in a bid. Bear in mind that purchasers may occasionally make particular requests that you may or may not be able to fulfill. However, you may always deny demands that you're not comfortable fulfilling.
Extra income: Selling used underwear can provide an additional source of income, especially for those who may be struggling financially or looking for a flexible side hustle.
Flexibility: A significant portion of this side hustle's operations involve packaging and transporting your merchandise. This does not need a great deal of time or effort. The majority of marketing initiatives required are long-term in nature. At home, you may work on your own conditions and on your own schedule.
Sexual expression: Some individuals may find the sale of used underwear to be a form of sexual expression and a way to explore their own desires and boundaries.

Cons
It's Possible To Feel Uncomfortable: Underwear that has been used for a longer period of time fetches higher prices. When you wear the same underwear for several days, unpleasant things might happen. Excess perspiration is one of the most typical problems that used underwear sellers face. If you wear the same undergarments for several days, you are more likely to develop skin issues. One approach to avoid this is to refuse requests for extended "wear" days or to increase your cost.
The Market is unpredictable: You'll never be sure if your earnings will be enough to cover your monthly expenditures, just like selling any other goods. Slow or no orders can occur at any time of year. Your things may sell for less than you expect, but that doesn't mean they'll really get to you.
Health risks: There is a risk of spreading infections or STDs through the sale of used underwear, and it is important for sellers to practice good hygiene and protect themselves and their customers.
Inappropriate behavior: Some buyers may exhibit inappropriate or disrespectful behavior, and it is important for sellers to set clear boundaries and guidelines for communication and transactions.
Frequently Asked Questions about selling used Panties
Who Buys Used Panties?
Typically, it's young men between the ages of 20 and 25, but older folks do place orders as well. If you sell worn panties online, you may realize that your consumer base spans a wide age range. Panty fetish extends much beyond the typical age range, and consumer rivalry is strong.
Will I Be Able To Maintain Total Anonymity?
The answer is Yes. Despite the fact that all websites for buying and selling filthy underwear for money claim 100% anonymity for both vendors and purchasers, Try not to divulge too much of your personal information in order to prevent being a victim of identity theft.
Yes, panty-selling websites do not ask you to provide your real identity or any other personal details other than an email address.
These websites do not collect or disclose any information about their users, and all payments are encrypted. In addition, you are not required to expose your face in photographs.
There may be consumers who could use this information for their own reasons, which would be problematic.
Should I include pictures of myself wearing the underwear in my listings?
To answer your question, yes, wearing the underwear is a crucial part of the process when it comes to selling used underwear. (In fact, it's the whole point!)
The reason for this is that buyers are specifically seeking out items that have been worn and carry your unique scent. This distinguishes them from brand-new underwear and is what makes them appealing to buyers in the market.
The Takeaway!
let's talk about some of the key points to keep in mind when selling used knickers.
One of the most important aspects is selecting which items to sell. This involves evaluating the condition of your underwear and thinking about what would appeal to potential buyers. Once you've chosen which pieces to sell, it's time to prepare them for sale by cleaning and pricing them appropriately.
Finding a reputable platform to sell on is another crucial step. We have discussed various available, each with its own fees and restrictions. It's important to evaluate these factors and choose a platform that aligns with your goals and values. Creating a seller profile is also essential to building trust with potential buyers.
Marketing your products effectively is key to attracting buyers and making sales. This involves writing compelling product descriptions, taking high-quality photos, and utilizing social media to promote your store. Building a positive reputation through excellent customer service is also essential to maintaining a successful business.
Finally, interacting with buyers can be an exciting and nerve-wracking experience. It's important to address common questions and concerns, manage negotiations and offers, and ensure safe and discreet transactions. By prioritizing professionalism and respect, you can build lasting relationships with your customers.
To wrap it up, selling used underwear online is a unique and naughty way to make money online for those who are comfortable with this particular industry. With the right approach, you can create a successful business that provides both financial stability and personal fulfillment.
So, don't hesitate to give it a try! As always, prioritize safety and well-being above all else, but don't be afraid to take risks and pursue your dreams.