Selling used panties on Craigslist can be a profitable venture, so if you're tired of living paycheck to paycheck and looking for a new way to make some extra cash, well, look no further! (because) Selling your used panties on Craigslist may be the solution you've been searching for.
With the growing interest in intimate personal items, it's no surprise that many people are turning to online marketplaces to make a quick buck.
But before you post your first listing, there are a few things you should know about how to sell used panties on Craigslist safely and effectively. (don't worry we'll walk you through it).
I first heard of selling underwear on Craigslist through a good friend from New York. I couldn't believe how much she was making by selling her used underwear and socks on Craigslist.
In a lucrative month, she would make $1800 selling slightly used panties on Craigslist and $80 on a pair of used socks.
The revelation was both shocking and intriguing. Don't get me wrong.
She confessed that a massive chunk of her income came from selling underwear and socks on Craigslist.
But doing my due diligence was needful because I have to share this information I get with women who want to make money on Craigslist and don't know where to start.
Any woman can do this. You don't have to be in the adult industry to start. If you need extra bucks, selling panties is the easiest yet very lucrative way to make quick bucks online.
Using the right strategy is critical.
Suppose you are wondering where, and how to start. I got you. Read on and get to know the insights to get you started.
Let's dive right in;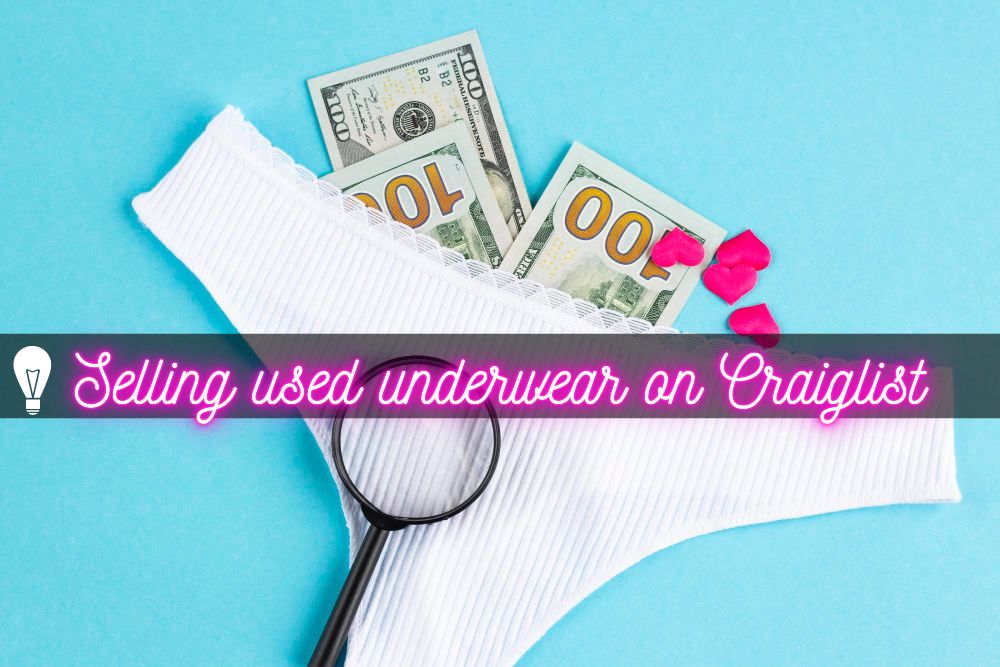 Why Sell Used Panties for money?
Well, used undies are in demand for people with a fetish, and many have this kind of fetish. There's no investment and skills needed to start. It's also effortless and profitable.
When doing my research, It was now clear where it all started. Selling underwear is very common in Japan, where they even have vending machines.
Japan sells used panties through vending machines in unique stores known as the Burusera. While in other parts of the world, used panties are sold online on a marketplace like Craigslist and sites specifically selling used underwear.
Who Buys used underwear on Craigslist?
The truth is that used underwear is high in demand. Both men and women buy used panties to sniff.
Some men get erotic pleasure in female scent in used panties, and vice versa is about women.
Are There Other Undergarments that You Can Sell on Craigslist?
Yes. As I mentioned, my friend made $130 from selling used socks. It's even shocking how used socks are in demand on Craigslist.
You can sell and buy any undergarments on Craigslist such as used bras and lingerie.
How Much Can You Make Selling Underwear on Craigslist?
People make thousands of dollars on Craigslist selling used panties. An average seller can sell up to ten used panties on Craigslist.
Most used underwear goes for around $20-$50 per piece. If you make ten sales on a low month and one goes for $30 monthly, you'll be making $300. Insanely good, right?
In most cases, the buyer pays for shipping.
Keep in mind to factor in the cost of panties. You can always buy cheap ones on Target and Amazon.
Is It Legal to Sell Used Panties?
Is it one of the questions that people ask themselves before starting? Is it illegal? Will I get into trouble?
The answer is no. It is entirely legal to sell used underwear but be very careful because selling to a person underage can get you into trouble.
In counties like the US, UK, Australia, and Canada, it's legal to sell your underwear on Craigslist. But I tell you to research your own particular country to be specific.
Is It Safe?
That is the biggest question everybody asks when starting. Am I safe?
Well, the best part of this hustle is that it's completely anonymous. You don't have to meet or show your face. You'll need a return address or rent a PO box in your local area to ship the underwear to your buyers.
Expert Tips When Selling Underwear on Craigslist.
Selling on Craigslist differs from selling on specialized websites for used underwear. For example, you don't have to create a profile but have a great bio to make good sales.
Your bio must reflect your personality to make a connection with the buyer. Don't just write a few sentences because the process is anonymous. You won't generate sales at all.
You need to be sexy, playful, and witty with your bio to make sales and connect with the buyer.
Your profile picture is the first thing the buyer sees.
Selling Underwear on Craigslist is about connection and realism, adding a twist to your picture. You can make it sexy and flirty.
Always add a variety of different panties to your profile. Customize them to stand out from the crowd to generate sales.
When it comes to uploading photos, this is where most sellers go wrong by uploading photos of used underwear on the couch or the bed.
You can increase sales by taking photos while wearing the panties. Top sellers on Craigslist does this and even upload videos that are sexy to entice the buyer.
The pricing depends on many factors, significantly when the amount increases for a buyer. Let's say a customer wants you to where the undies for 40 hours, then you have to charge for the extra work you do.
The typical price ranges from $20-$150 per piece.
Extra Tips:
Ensure you put on your underwear overnight for extra scent.
Wear underwear while exercising in the gym to have your body scent and odor to the underwear.
Conclusion.
We all have to agree that it's fascinating and crazy how easy it is to make money selling your used underwear and lingerie on Craigslist. It's one of the kinky ways to make money online and there's no shame in it.
You can also sell used socks, bras, and other clothes and make insanely good money.