A Complete Guide on How to make money by Selling Feet Pics On OnlyFans
Do you want to make money selling feet pics on Onlyfans? If so, you're in luck! Today I'm going to show you how to successfully Sell Feet Pics On Only Fans and make more money.
When I first started selling feet pics on OnlyFans, I was so excited but also kind of nervous. I had no idea where to start, how much to charge or how to market my content.
But, I quickly learned that finding the right balance between pricing and demand was crucial. (It's a fine line, trust me.) After a few months of trial and error, I was able to significantly increase my income and build a loyal following of subscribers.
In this post, I'll show you a few tricks on the following;
How to successfully make money by selling feet pics on OnlyFans.
A beginner's guide on how to create an only fan Page/account for your feet pictures.
We shall also talk about the expected salary or revenue you can make from only fans with feet pictures.
Some useful strategies and techniques that have worked for me and how you can use them to increase your own income on OnlyFans.
How to market your Onlyfans page for feet.
If you don't know what OnlyFans is, let me break it down for you:
OnlyFans is a mobile app and website that allows models and creators to post pictures and videos of themselves and other models or performers. It's also a way for people to buy pictures online.
In other words, OnlyFans is a social network where models and performers can build a following, as well as fans. It's basically like a subscription Instagram. People could pay you to subscribe to your feed.
Models and performers are able to use the app to post photos and videos and set up an account that enables users to follow them, view their profiles, and see what else they've posted.
If you're one of those who want to sell their foot photos online and earn money on Onlyfans you may follow this step-by-step instruction.
The good news is that you don't have to be a celebrity to get Feet photos paid for. People are making good money selling feet pictures, so it shouldn't be hard for you either.
You only need to locate the perfect audience for your Feet photos since many people are more than ready to pay for them.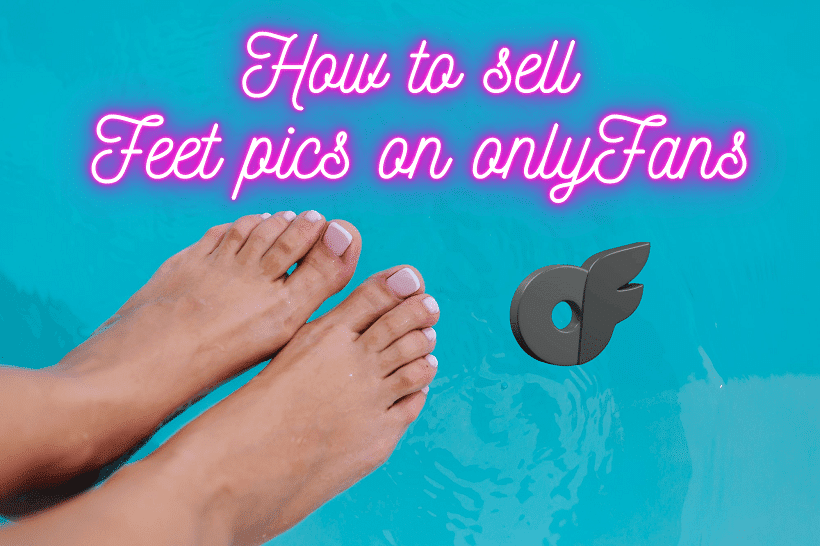 So, you want to sell feet pictures on OnlyFans? Here's how to start an OnlyFans for feet pics:
Okay, so you're ready to start selling feet pictures on OnlyFans and make some extra cash? Here are the steps that you need to take
Create an account: Creating an onlyfans account is free so head on over to the OnlyFans website and sign up for an account. You'll need to provide some basic info, like your name and email, and create a username and password.
Set up your profile: Fill out your profile with info about yourself and your content. This can include a profile pic, a bio, and any other details you'd like to share. (Make sure to put your best foot forward, literally!)
Request Monetization: Next will be to put in a request for monetizing your account. After your account is approved you can proceed to the next step.
Choose your subscription fee: Decide on the subscription fee you want to charge for access to your content. Keep in mind that OnlyFans takes a cut of your earnings as a service fee. (It's just how they make their money.)
Upload your content: Go ahead and add your feet pics to your OnlyFans page. You can also create a content schedule or offer different subscription tiers to give your subscribers more value.
Promote your page: Share your OnlyFans page on social media, your own website, or any other platforms you have a presence on to drive traffic to your page. (The more people that see it, the better!)
Engage with your audience: Interact with your subscribers and respond to their comments and messages. This can help build a strong following and encourage them to continue subscribing. (Your subscribers will appreciate it!)
Regularly upload new content: Consistently uploading new content can help keep your subscribers engaged and encourage them to continue subscribing. (Keep 'em coming back for more!)
It's good to note that when setting your monthly subscription price. It is advisable to keep the price as low as $10 when you're starting, but as the number of your subscribers increases, you can also increase the price.
How can you promote your Onlyfans page for feet?
Once you create your Onlyfans profile you can start promoting it to your followers. To do this you need to have at least 10 followers or more and the type of profile you choose should be the "Public" type.
After choosing the right Onlyfans page profile and adding your followers there are four main ways to promote your Onlyfans account:
It is recommended that you use Twitter and email promotions first before you make any other changes to your profile or website.
It is also recommended that you do not post about Onlyfans publicly until you have a few followers. It is the same for Facebook posts.
only fans feet revenue: So How much should you charge for selling feet pics on Onlyfans?
I know you're probably wondering "how much do feet pictures sell for on Onlyfans?"
As an OnlyFans user who sells feet pics, you can easily earn some extra cash by uploading photos of feet from clients and selling them as posts. For instance, you can charge anywhere between $1-$10 per photo (depending on the quality as well as the client who'll be buying the photo).
OnlyFans is one of the most popular platforms for selling photos, particularly feet pics. On this platform, people upload images of their feet, which are then sold to other members. These users can either purchase or save the feet photo and use it in their own profile.
So, how do you decide how much to charge for feet pictures on Onlyfans?
Hey, so when you're just starting out on OnlyFans, it can be tough to know how much to charge for your content. Trust me, I've been there.
My advice is to try and find the balance between charging too little and too much. You might want to start out by charging a bit less than what you feel is the going rate.
This will help you get a few sales under your belt and give you a better idea of what people are willing to pay. Then, once you have a better understanding of the market, you can start bumping up the price a bit. It's all about finding that sweet spot, you know?
Of course, it's important to keep in mind that everyone's circumstances are different, so what works for one person might not work for another. But don't worry, as you start getting more sales, you'll get a better feel for what works and what doesn't. And who knows, you might even discover that your content is worth more than you originally thought. Just don't be afraid to experiment a bit and see what works for you.
Boost Your OnlyFans Income: Expert Strategies for Selling Feet Pictures and Maximizing Your Earnings
You won't believe this, but according to a survey by OnlyFans back in 2020, the average creator on the platform was making around $180 a month!
I mean, if you're thinking about selling feet pictures on OnlyFans, you're probably wondering how you can make more moolah and stand out from the competition. (Who doesn't want to make more money, right?)
Below are some insider tips and tricks for increasing your feet income as a feet picture seller on OnlyFans.
Upload high-resolution photos: People will pay more for a high-quality foot photo.
Keep the price reasonable: Remember that you want to get paid for your efforts.
Focus on getting high-quality photos: It's important to get the lighting and positioning right.
Take the time to research: Make sure you're getting the best prices for your feet pics.
Promote your content like crazy! Share your OnlyFans page on social media, your own website, or any other platform you have a presence on.
Engage with your audience. Interacting with your fans can help build a strong following and encourage them to continue subscribing.
Offer exclusive content or perks. This can help keep your subscribers coming back for more.
Experiment with different pricing tiers. OnlyFans allows you to offer different subscription tiers at different price points. Try out different packages to see what works best for your audience.
Consistently upload new content. This can help keep your subscribers engaged and encourage them to continue subscribing.
Collaborate with other creators. Partnering with other creators on OnlyFans can help you reach a wider audience and potentially attract new subscribers.
Utilize relevant tags and keywords. Using relevant tags and keywords in your content descriptions can make it easier for users to discover your page.
Offer additional services or products, like custom content or merchandise. This can help diversify your income streams.
Diversify your content. Consider offering a variety of content types, like videos, photos, or text-based content, to appeal to a wider range of subscribers.
Be responsive to customer feedback. Pay attention to what your subscribers are saying and consider making changes or offering new content based on their suggestions. This can help improve the overall user experience and encourage them to continue subscribing.
Remember, earning an income from OnlyFans or any other platform is not guaranteed and will depend on a variety of factors, including the quality of your content and your ability to market your page effectively. But, I hope these tips can help you out and take your income to the next level!
Watch the video below and get more tips on how to make money by selling feet pics on OnlyFans.