Where to sell pictures of your feet in America and make money!
Are you one of those people who get tons of compliments about their feet?
If yes then I'm here to tell you that you've been standing on a fortune all your life!
Yes! you heard me right, In this article we are going to explore this unique way and learn how to make money from your appearance and looks.
Can you really make money selling feet pictures?
Yes, you can make some easy money online by selling pictures of your feet!
Sounds a little weird I know, but the truth is Feet Pictures are getting popular every day and people are making money selling feet pics.
In a world of almost 8 Billion people, people have a lot of fantasies foot fetish being one. Study shows that close to 6% get excited by good feet and legs.
Besides foot fetish, Marketing products and services related to feet and legs is on the rise in this digital era.
Brands are looking for those gorgeous feet to advertise their products and services such as sandals, lotion, nail polish, women's stockings, and lingerie.
Doctors, digital publishers, massages and beauty parlors, sports agencies, and modeling agencies are all looking to buy beautiful feet pics.
So don't be surprised that somebody might be willing to spend some money buying some beautiful feet pics.
Sounds intriguing… right?
So how can i sell pictures of my feet in America?
If you want to learn more about how to make money selling feet photos, here is the most complete step-by-step tutorial that will teach you how to sell feet and toe pictures online and earn money from home.
So let's dive right in.
What do you need to get started?
Before we get started, the one thing I would like to emphasize is that you can sell your feet photos, whether you are male or female. The appeal is the same across both sexes.
"So what do I need to start selling feet pics?"
Basically, all you need is your pretty feet and a good camera. You don't need an expensive one when starting out. Most new generation mobile phones have a pretty decent camera that can take awesome and quality images.
Just snap pictures of your feet the same way you take those awesome selfies. Don't be afraid to enlist a friend to photograph your feet as this will allow you to offer a variety of feet pics.
Make sure to write a good bio for selling feet pics; When creating a bio, you must include something that will entice more visitors. Remember, the more people who visit your profile, the more likely they are to become paying clients.
Below are some examples of foot fetish photo poses that might help you land some new clients.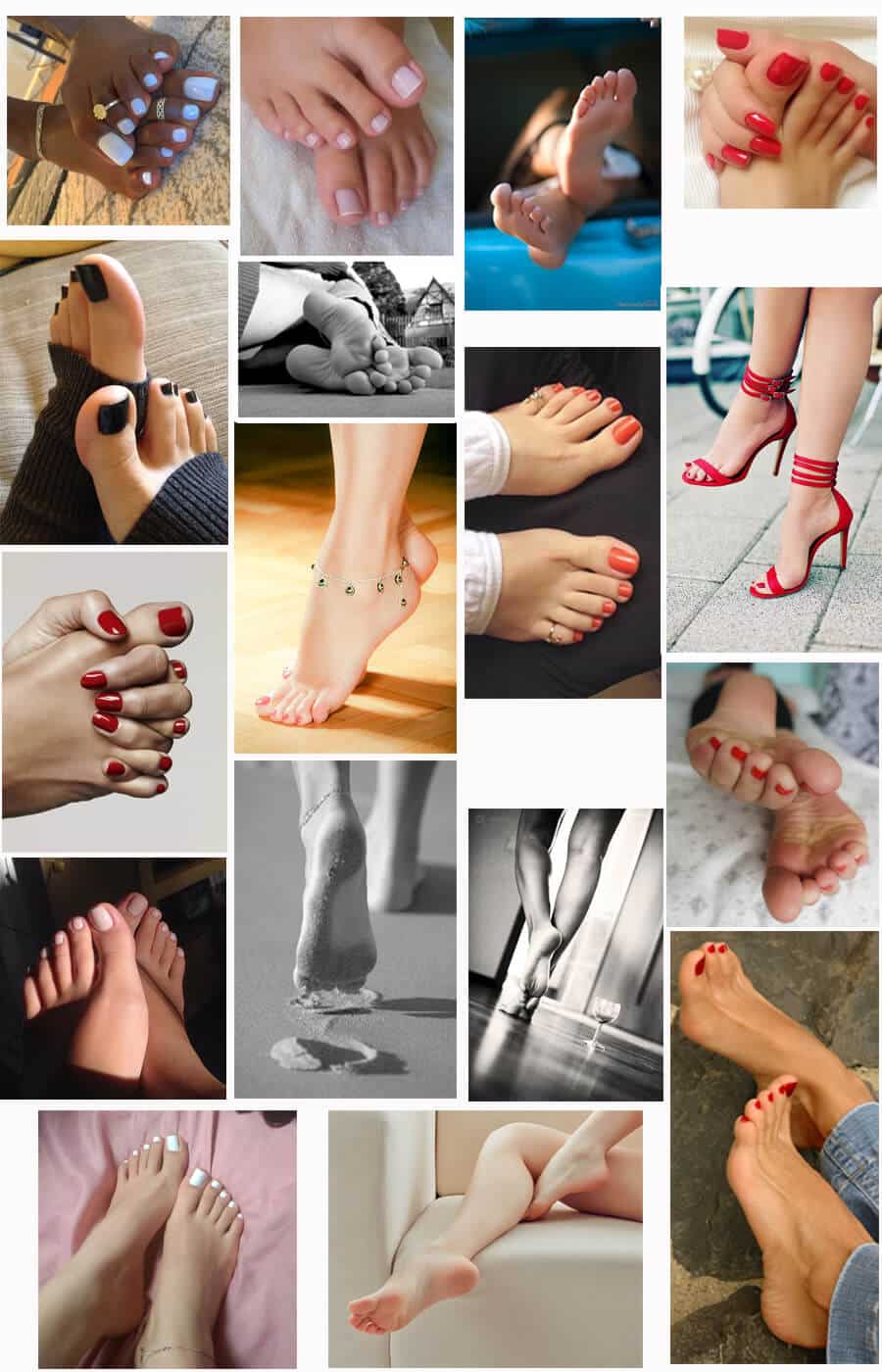 Where to sell feet pics: Best Apps and Websites to sell feet pics.
I can imagine that as a beginner, you might be wondering where to sell pictures of your feet for money.
Whether you're in Canada, UK, Europe, USA, or Australia, we've got you covered. While some people prefer to remain anonymous when selling feet pictures, others choose to build a brand with their faces. It's really up to you and what you feel comfortable with.
If you're up for the challenge and want to be the next big thing in foot modeling, then go ahead and choose your preferred platform for selling and payment.
You can even set up your own fees, and the best part- you can customize your package to meet your buyers' needs (talk about being a pro!). This allows you to adjust your prices accordingly and keeps them coming back for more.
But wait, there's more! To help you get started on the right foot (see what I did there?), it's highly recommended that you create new social media accounts specifically for selling your feet pics.
This way, you can separate your feet pics hustle from your personal life for your own well-being. Trust me; you don't want to mix these two things.
Below is a list of apps and websites where you get paid for pictures of your feet.
Feetfinder is the best app to sell and also buy feet pictures.

Easy and friendly Interface.
Enhanced Privacy and Security
A large and robust community of feet enthusiasts
For anyone looking to sell pictures of their feet online, Feet Finder is an excellent choice. The platform offers a focus on quality, affordability, privacy, community, and ethical business practices, making it a top option for both buyers and sellers in this niche market.
Feetfinder is a user-friendly platform that allows foot enthusiasts who want to buy/sell feet pics to connect and explore their fantasies safely and discreetly. Registration is free, and anonymity is ensured for those selling their photos.
They offer buyers an extensive collection of photos and videos from verified sellers worldwide, making it easy for them to find what they are looking for.
The platform's user-friendly interface allows users to filter their searches based on price or location and communicate directly with sellers, providing a seamless buying experience.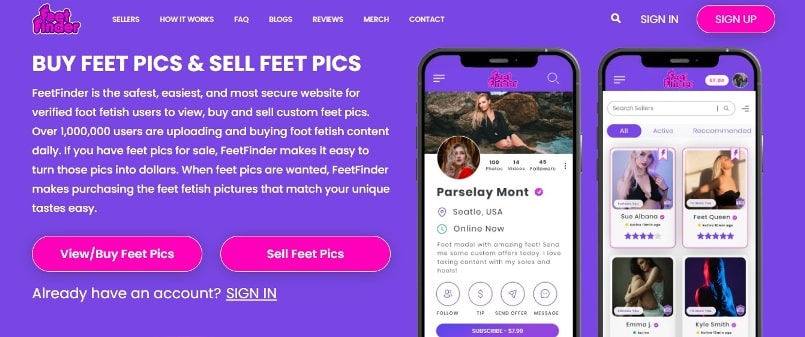 Feetfinder boasts a distinctive trait of prioritizing quality, providing a safe and responsible platform for both buyers and sellers. They guarantee that all content on their site is authentic, lawful, and consensual, with strict rules against any actions that could be deemed exploitative or illegal.
Additionally, they have a team of moderators who review all content to ensure compliance with their guidelines, further establishing their commitment to the safety and well-being of their users.
Feetfinder also values privacy and takes steps to protect both buyers and sellers. For example, they only require the seller's ID for account approval to prove they are real.
However, if you're a buyer they do not require real names or photos, and transactions are handled securely and discreetly. They use industry-standard encryption to protect personal information and payment details, ensuring that transactions are completed safely and effectively.
Another great feature of Feetfinder is its ability to handle transactions in multiple currencies, making it convenient for buyers and sellers worldwide. Buyers can pay for their purchases using major credit cards or PayPal, and sellers receive payments through secure online platforms.
and wait there more! you can also earn more through their affiliate program by referring friends to the site. For each sale your friend makes, you'll earn 10%! how cool is that?
If you're interested in selling your foot pictures on Feet Finder, here are some simple steps to follow:
Firstly, create a user account with them, making sure to include important keywords in your bio to help buyers find you easily. Then submit your account for approval.
Next, pay the seller's commission fees, post some feet pics or videos of your feet, choose your preferred payment method, and wait for the buyer to make the payment. And voila, once the payment has been made, you'll get paid too!
Feetfinder is a premier destination for anyone looking to explore their foot fetish online as it offers an unparalleled experience for foot enthusiasts everywhere.
So why wait? Sign up today and start exploring all the amazing feet pics that Feetfinder has to offer!
2. Dollar Feet – How to sell feet pics on dollar feet

Dollarfeet.com is a website that allows you to sell feet pics by becoming a foot fetish model.
All you need to do is submit your application as a model and once it's approved, you can start earning right away by sending your feet pics and videos as per the instructions provided.
All you need is some pretty photos or videos of your feet and you can start earning anywhere between 5$ – 50$ depending on how pretty your feet are and the number of videos (5-minute long)
You can choose to remain anonymous or conceal your identity by wearing props and masks but they offer higher prices if you choose to show your face.
According to Dollarfeet, their Bestselling feet video clips are: soles show videos and sweaty soles show videos. However, your soles and face must be visible in those videos.
Method of Receiving Payment: Paypal
Is DollarFeet.com Legit?
Dollar Feet has an average to good trust score.
The review of Dollarfeet is positive.
The positive trust score is based on an automated analysis of 40 different data sources we checked online such as the physical location of the company, other websites found on the same web server, technology used, etc.
The Website is 5 years old which is definitely a good sign. The company's address is available on the contact page. But the contact number is missing. Customer support can be reached via email and contact form.
3. Instafeet- How to sell feet pics on Instafeet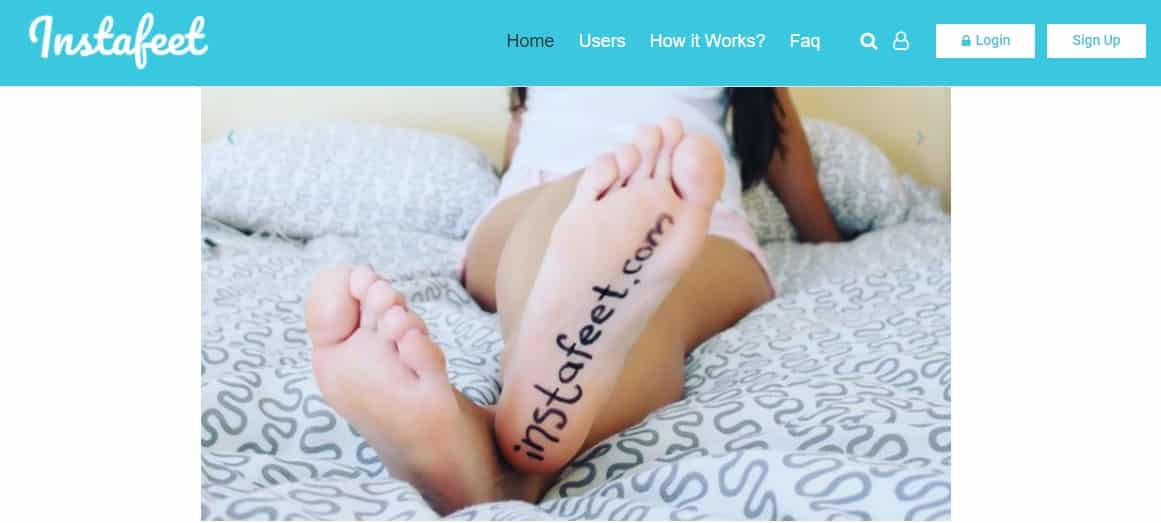 Instafeet is a membership platform where buyers pay you a monthly subscription fee to access your profile.
You have to apply for a profile and once approved, you can start earning by posting at least 5 feet pics. It's advisable to set your membership fee on the lower side to attract as many subscribers as possible to your profile.
But like we mentioned earlier, you should know your worth and if you've got those high arches and pretty feet, you can determine how much you charge for every photo. However, the majority of feet sellers start charging somewhere between $5-$20. You can however raise the price as you get more demand.
Like most feet-selling platforms, they charge a 10% commission fee for payment processing and platform maintenance.
Want to know more about Instafeet? Check our comprehensive Instafeet review by clicking the link below
Instafeet Reviews: Is Instafeet reliable and safe?
4. Foap -How to Sell Feet pics on Foap.

Foap is another platform that will allow you to make money from your appearance and Looks by selling your feet pics online.
It's available as a web application (website) and as a mobile app on both Android and iOS.
So how can you sell feet pics on Foap?
Head over to Foap and sign up.
Create a profile and upload your best-quality photos and videos and when a person or a brand purchases an item on your portfolio, you'll split the earnings 50/50;
This means a 50% commission.
But wait! NOT everything is gloom and doom!
Foap offers other opportunities by virtue of being in the Brand Marketing Industry.
They partner with big brands to deliver optimized online advertising by providing images to these brands for their advertising campaigns.
This means big brands have access to your portfolio and who knows! Your feet pics can feature in an ointment advertisement!
You can also participate in any of their creative photo and video Missions for various brands and earn hundreds of dollars!
Don't forget to use tags when uploading your photos. Tags are keywords that will describe what each photo is all about.
Here are some tips to increase your income selling feet photos and videos on foap.
Properly tagged photos are more visible in the search on the Foap Market. You can add from 5 to 100 tags to each of your photos. It's recommended to add as many relevant tags as possible.
To keep up with the competition always be creative, unique, and different in your own ways
5. Feetify- How to sell feet pics on Feetify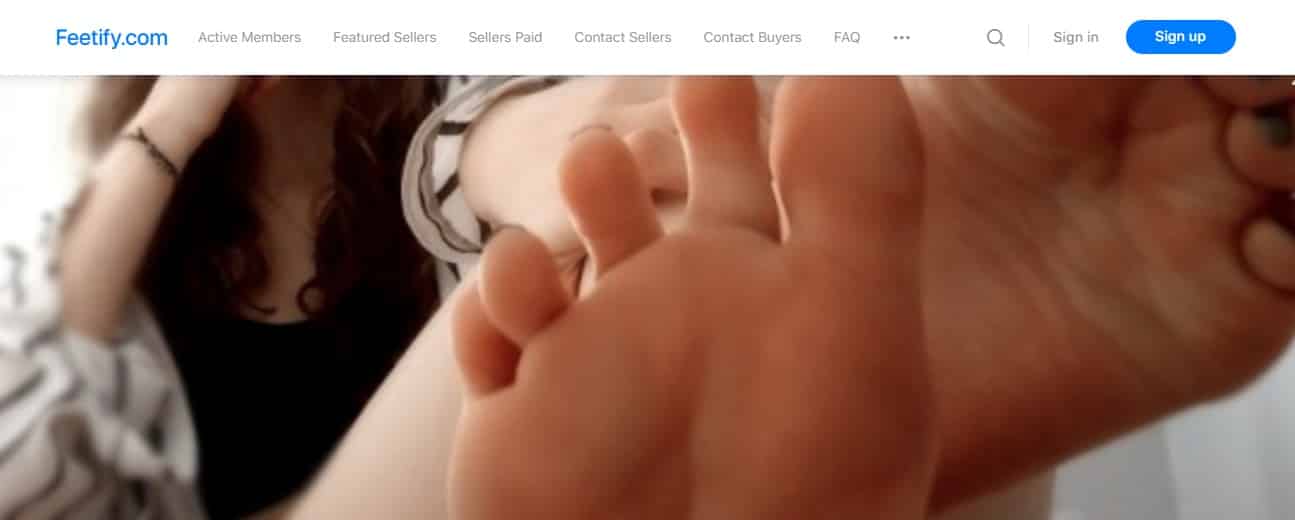 Feetify platform is more like a social media for people who buy and sell feet pictures online.
It's absolutely free to join and once you have joined you can start to upload pictures of your feet and make some money selling them online.
The website has a live chat feature that allows you to communicate with your customers in real time. Some customers may have very specific requests on how they would like their feet pics or videos this will give you an awesome opportunity to charge a premium price and increase your income.
6. How to Sell Pictures of your feet on FeetPics.com

Feetpics.com is a platform where feet sellers can signup and start selling their feet pics as soon as their membership is approved.
They offer various services such as WhatsApp, Videos, Pictures and Feet Cams
Your vendor page comes with a built-in advertisements function, therefore you can add listings in different categories when you like.
You can choose to use the free listing or go with the Premium Listing whereby you'll be required to pay a one-off set-up fee of $ 9 and no commission is charged.
Payment options include PayPal, Bank transfer, Bitcoins Amazon Gifts and credit cards.
The Premium Listing offers the following features
Your Profile will be Marked with a Verified Badge
Ability to customize your sellers' page by uploading a Profile and Cover Image
Your Page will be Searchable on the platform
Built-in Get in touch with Form and Social networking Links
Rankings and Buyers can give you Reviews
You can Receive Offers from feet buyers.
You can communicate with the buyers through direct Messages
Your Page will be Featured in the Vendors' Profile.
7. Etsy – How to sell feet photos on Etsy

For you to sell Pictures of your feet on Etsy, you first have to create a seller account and wait for approval which takes a short time. After approval, head into the "Open your Etsy shop" section and login into your seller account using your email.
Now you can start uploading your feet pictures and set your price. Etsy will charge you $0.20 for each listing that you post. Each picture will remain on Etsy shop for a maximum of 4 months, or until someone buys it. Interested buyers are requested to visit the Etsy website and search for "feet pictures" on Etsy's search bar.
Finally, Etsy takes 5% of the final sale that you sell your feet pictures. The payment processing fee is 3% of the sale plus $0.25. You'll receive these bills from Etsy every end month and you are required to pay by the 15th of the following month.
Payment Options
Etsy doesn't restrict you to one payment option, instead, you are free to choose which payment option to offer your buyers including credit cards, debit cards and PayPal, among others.
8. How to Sell Feet Pics on Instagram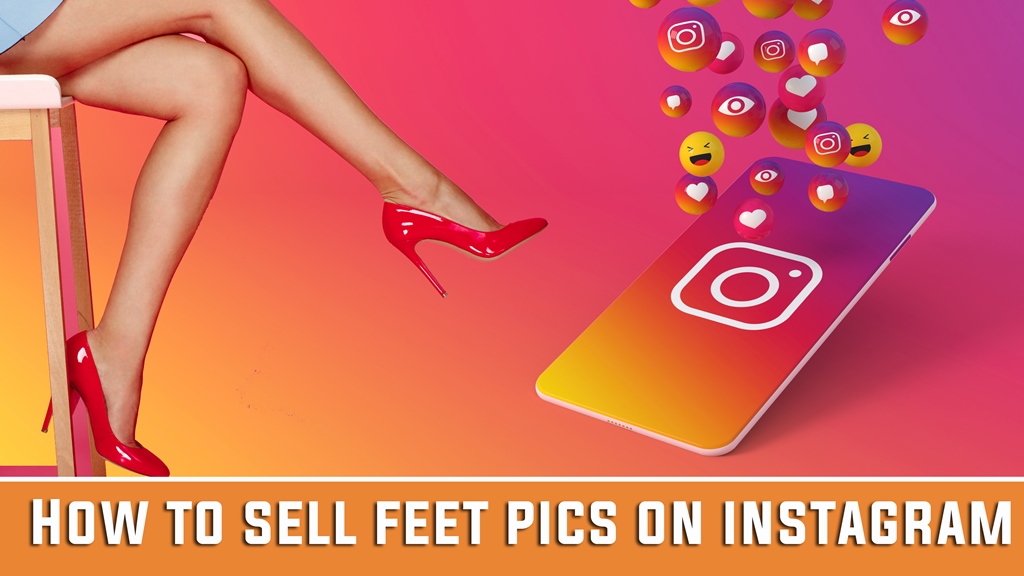 Instagram is a photo app with over 12 billion users every month making it one of the best apps for selling feet photos.
Here is a step-by-step guide on how to sell feet pics on Instagram.
All you need is to set up your selling feet pics account/profile on Instagram.
Start posting your best feet pictures, this will help gain traction as we build our fan base.
Now we have our account all set up! You need to find your competitors and steal their ideas.. oooh and followers too. To find your competitors use the following hashtags

#feetworship
#feet
#feetlover
#footfetishnation.
#feetpics
#sellfeetpics
#buyfeetpics
#BeautifulFeet
#PerfectFeet
#PrettyFeet

Now head over to their profile and follow the active followers on the page. You can even message them directly just to let them know that you're also selling feet pictures.
Look at their profile and check out what hashtags they are using or even steal a few ideas on how to take good feet pics that will attract more followers to your account.
9. How to Sell Feet Pics on Facebook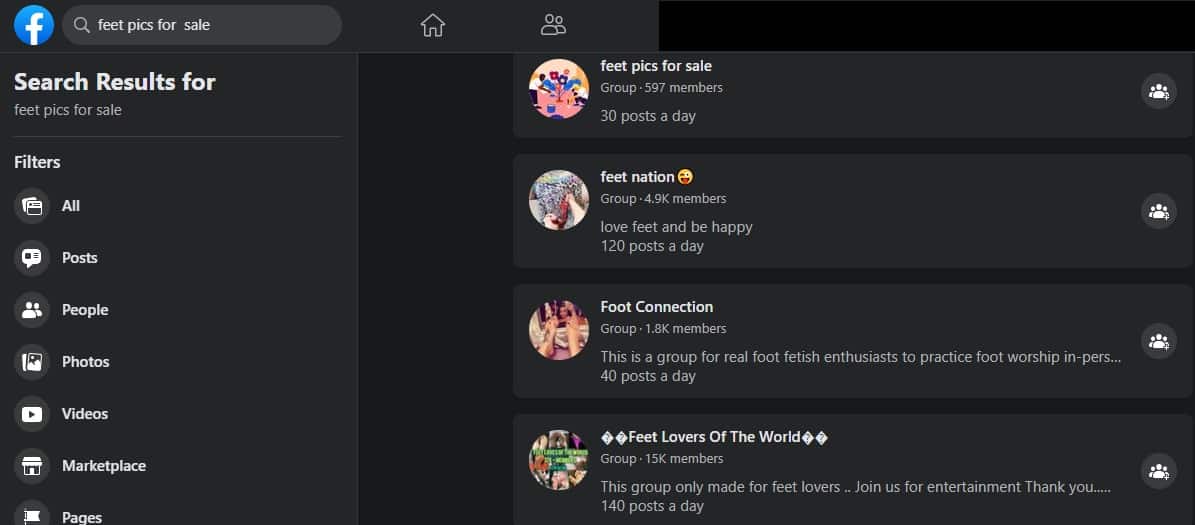 You should likewise be utilizing Facebook and you realize that a large number of individuals use Facebook everywhere throughout the world.
You can likewise make a shop on Facebook and associate it with your site and sell photos of your feet.
10. How to Sell Feet Pics on TikTok
Head over to google play and download the TikTok application for Android devices and AppStore for iOS devices.
Open the app and create an account. Voila! You're now good to start creating new videos. One awesome thing about TikTok over other feet selling platforms is that TikTok does not require approval for you to use it.
Head in to complete your personal information. Add your email address and a website link. Why is this necessary? When customers see your video clip, they'll visit your profile trying to access information on how they can get your images.
Additionally, you can discuss your charges for a feet picture and provide a link to your cash transfer application like PayPal or bank account.
TikTok has recently introduced TikTok for business, which you can use to promote your business. It requires you to be a TikTok user first, as explained above. You'll need to fill out the necessary information required and then submit it for approval. Having this account will set you apart from other TikTok users who post funny videos.
Download TikTok today for free and start making money selling your feet pictures!
11. Craigslist – How To Sell Feet Photos On Craigslist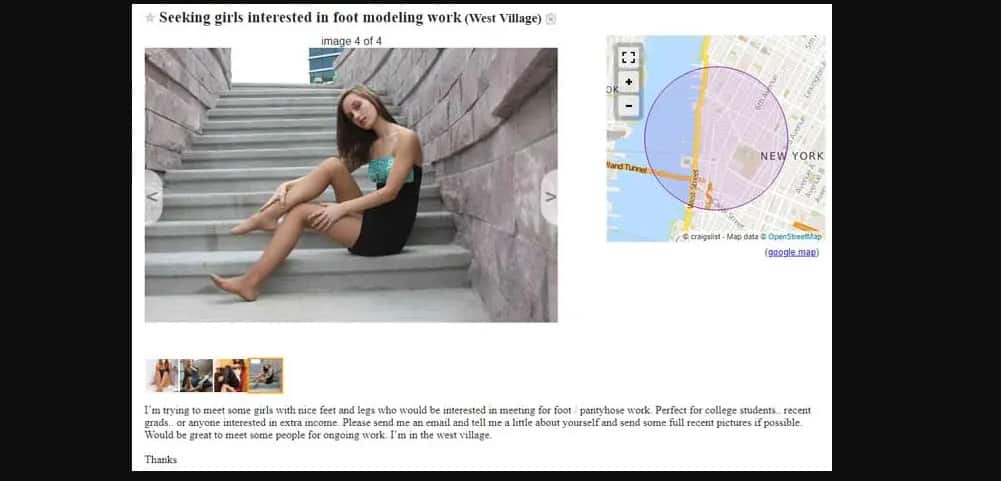 Other Ways to sell your Feet Pics
Create a Blog and sell your feet pictures (E-commerce)
shutter Stock – How to sell feet pictures on Shutter stock
Sell Feet pictures on Twitter
Frequently Asked Questions (FAQ)
Do you have to pay taxes for selling feet pics?

Yes, you are required to pay taxes when selling feet pics. You are also required to file taxes on the income you generate from selling feet photos.
This income will be considered business income and should therefore be recorded on a Schedule C tax form.
You should indicate that it's a small online business selling feet pictures operating as a sole proprietorship meaning that you'll be taxed as a self-employed individual.

What are the Pros and Cons of Selling Feet Pics?

One Pro of posting and selling Feet pics online is that there's a market for it, however, income or the amount of money you can earn may vary greatly depending on a number of factors such as your sales strategies, luck, and how well known you are.
Another pro is that you have a choice to go public or you can remain anonymous. it's entirely up to you.
Selling feet pics is one of the easiest ways to earn some extra money with no investment at all. You can bump into a person with a foot fetish who is willing to pay a ridiculous amount for your feet or toes pics.
The Negative side is that the internet can be a bit shady, You'll encounter all kinds of people some with not-so-good intentions. You know how to easily avoid them now that we have already talked about scammers.

Is there a market for male feet pictures?

The answer is an absolute yes! Selling Feet Pic cuts across both Sexes.  The only thing to note is that the Market is more biased towards women as there are more products targeted at them however that doesn't mean that women don't love guy feet pics too!
Here is how one guy is killing it by selling feet pictures of his feet

Is it legal to sell pics of your feet?

Absolutely yes! Selling your feet photos is legal in all ways if you happen to live in the USA, UK, Australia, Canada, and other European countries.
However, it might be illegal in countries with strict religious cultures
There are a few rules that you have to observe to avoid breaking the law.
Make sure there is no copyright infringement.
To sell feet pics you must be 18 years and above and also your clients should be persons above 18 years of age (consenting Adults).

OnlyFans Vs Instafeet Which one is better when you're selling feet Pics?

Instafeet is better than OnlyFans if you're planning to sell only your feet pics online. However, if you're also planning to upload different types of Content it's advisable to use OnlyFans.
Instafeet is an app that allows anyone to connect with their feet admirers and get paid for access to exclusive content.
Instafeet is a subscription-based service where users pay as much as $20 a month. The more subscribers you get as a seller, the more money you can potentially make.
There is very little traffic on Instafeet as many people don't know about it. On the other hand, OnlyFans has a large amount of traffic as it has more than 300 million users worldwide.
So, in terms of traffic OnlyFans is better than Insfeet even if you are selling on-your-feet pics. OnlyFans has better payment options and has faster payout than Instafeet.
So overall, I would say that OnlyFans is better than Instafeet if you compare all the parameters.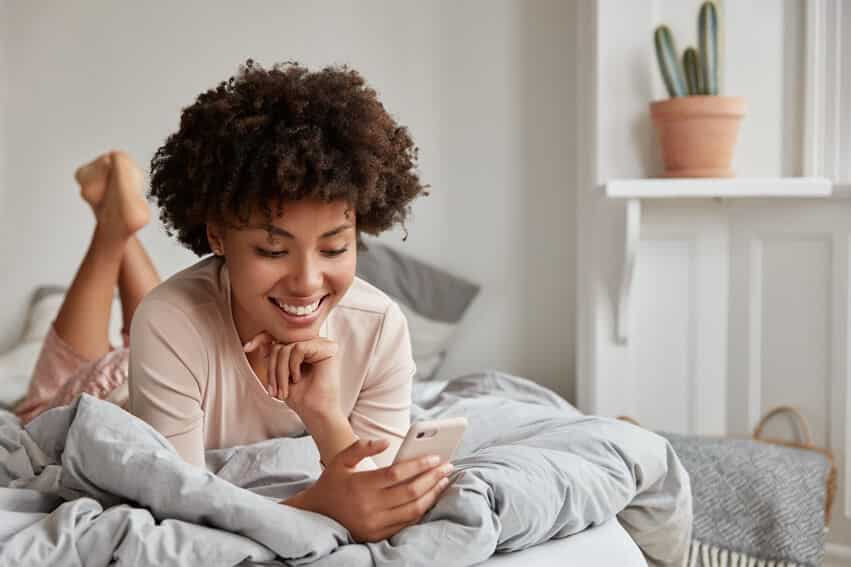 Final Thoughts On How To Sell Feet Pics in America.
If you're just getting started with selling your feet pictures online, you should definitely consider one of the many different platforms that exist.
If you haven't decided what platform to use, I'd recommend the ones listed above. These sites are specially designed to help people get started selling their photos and they're very affordable.
Keep in mind that if someone buys your feet pictures, you can make anywhere between $5-$10 depending on the number of purchases.
Watch the Video below and learn a few tricks and tips from people who are actually selling feet pictures online.